My Ideal House: Follow the Journey
---
My Ideal House is an exciting initiative to build a landmark family home in a master-planned community, Crest by Mirvac, in Sydney's south-west.

Australian House & Garden held a nationwide competition to seek a house design that is sustainable, flexible and future-proof in response to the needs of modern families.

Sydney architect Madeleine Blanchfield was selected as the winner with her modular solution that squeezes three generous bedrooms, a large, open living zone, a multipurpose room, double-car garage and more into a floor plan of just 230-square-metres.

Construction is now underway, follow the journey here.
---
JULY 2, 2018: HERE IT IS! STEP INSIDE MY IDEAL HOUSE!
It's with great pride that Australian House & Garden and Mirvac invite you to take a look inside My Ideal House. On sale today, the August issue of H&G details all the wonderful inclusions that make this beautiful house the ideal family home for now and into the future. Designed by Sydney architect Madeleine Blanchfield, styled by Bowerbird Interiors and built by Mirvac, this house went under the hammer on Saturday and was sold for $950,000. Mirvac has donated $50,000 of the sales proceeds to the Salvation Army.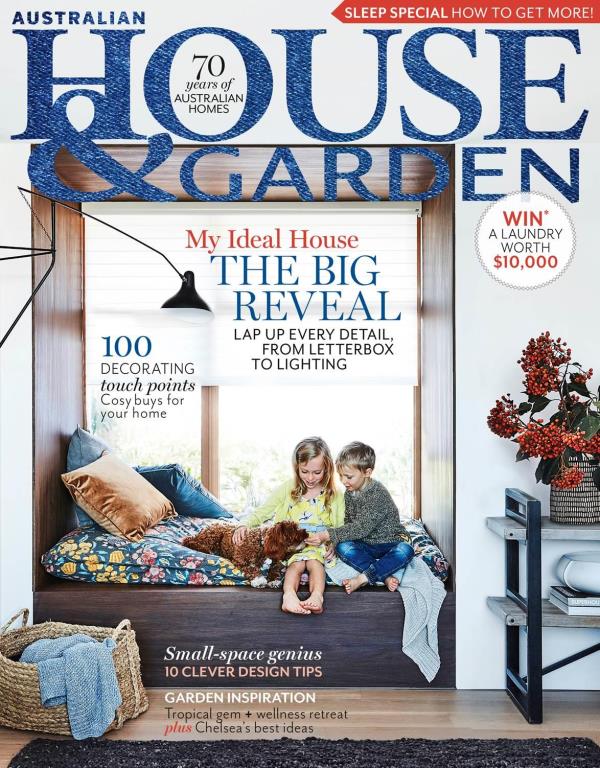 ---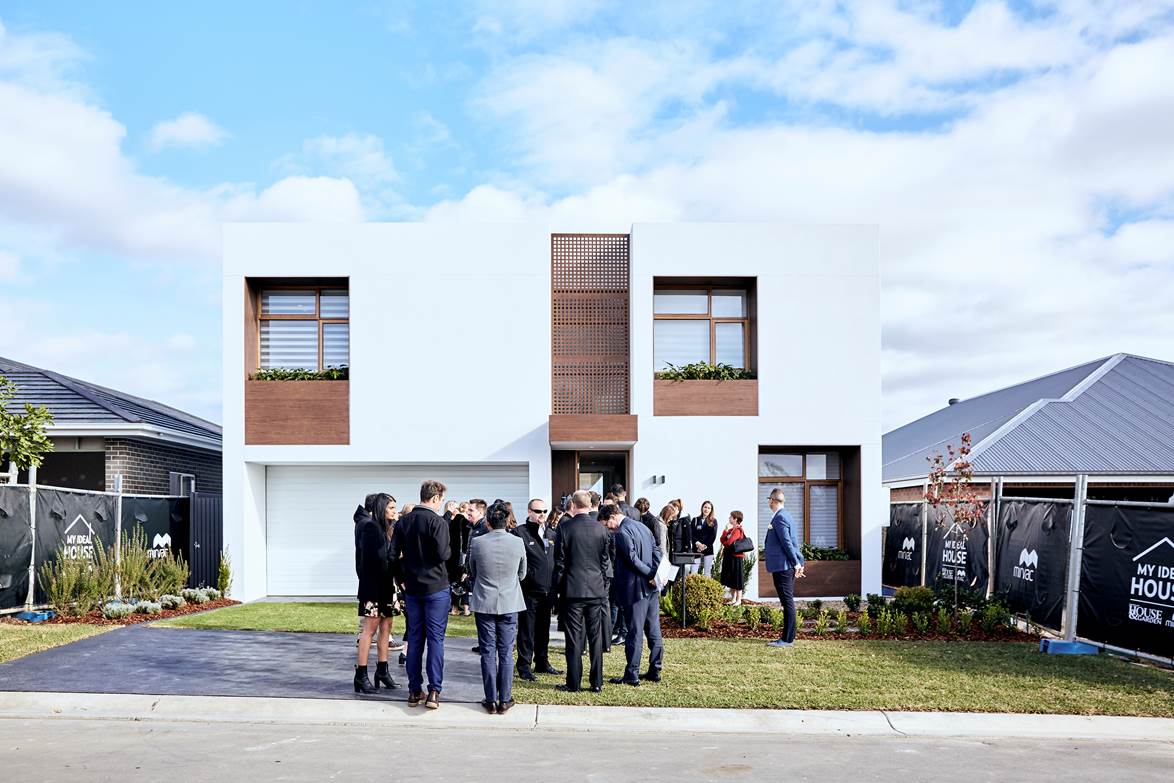 JUNE 4, 2018: IT'S A WRAP - MY IDEAL HOUSE IS COMPLETE!
It's with great pride we can announce that My Ideal House is complete! About 100 guests of Mirvac and Australian House & Garden visited the home on Friday, June 1, to walk through and admire this very special property. My Ideal House is the fulfilment of a long-held ambition by Australian House & Garden magazine to build a thoughtful family home that responds intelligently to the realities of modern life. Built by project partner Mirvac at 'Crest', its Gledswood Hills master-planned community in south-west Sydney, the property was designed by one of Sydney's most accomplished architects, Madeleine Blanchfield. Madeleine's scheme won a design competition launched by H&G in 2016, winning over the judges with its considered approach to family life. It offers places of retreat and congregation, harnesses the power of natural light and promotes a sense of neighbourliness – an important building block in any community. The resulting property is one that is sustainable, flexible and futureproof. The Mirvac design and construction teams worked alongside Madeleine to realise her vision and deliver a home that all concerned are rightly proud of. Australian House & Garden's editor-in-chief Lisa Green, who hatched the project idea says the proof of My Ideal House's success is in the walk-through. "The home feels larger than it is because of the clever way the rooms have been planned," says Ms Green. "Madeleine Blanchfield's design concept, an airy, modern home with many charming touches, has been beautifully realised by the Mirvac team, who were naturally focused on ensuring the house was innovative and held plenty of customer appeal." "The result is a lovely, liveable home with generous spaces indoors and out and solid eco credentials. It stands proud among its neighbours, fosters community interaction and pride with its window boxes and herbs in the front yard, and can be adapted to suit future family needs. "Australian House & Garden has promoted thoughtful design throughout its 70-year history and we are immensely proud of this collaboration." Mirvac's General Manager of Design, Marketing & Sales, Diana Sarcasmo, says design plays a central role in the reimagining of urban life and the wellbeing of the community. "Through design we have the opportunity to change lives for the better," says Ms Sarcasmo. "It's at the very heart of what we do at Mirvac and the ambitions of My Ideal House aligned with our own beliefs and values. Mirvac will also be donating $50,000 from the sale of the property to the Salvation Army to support its valuable work in assisting the homeless.
---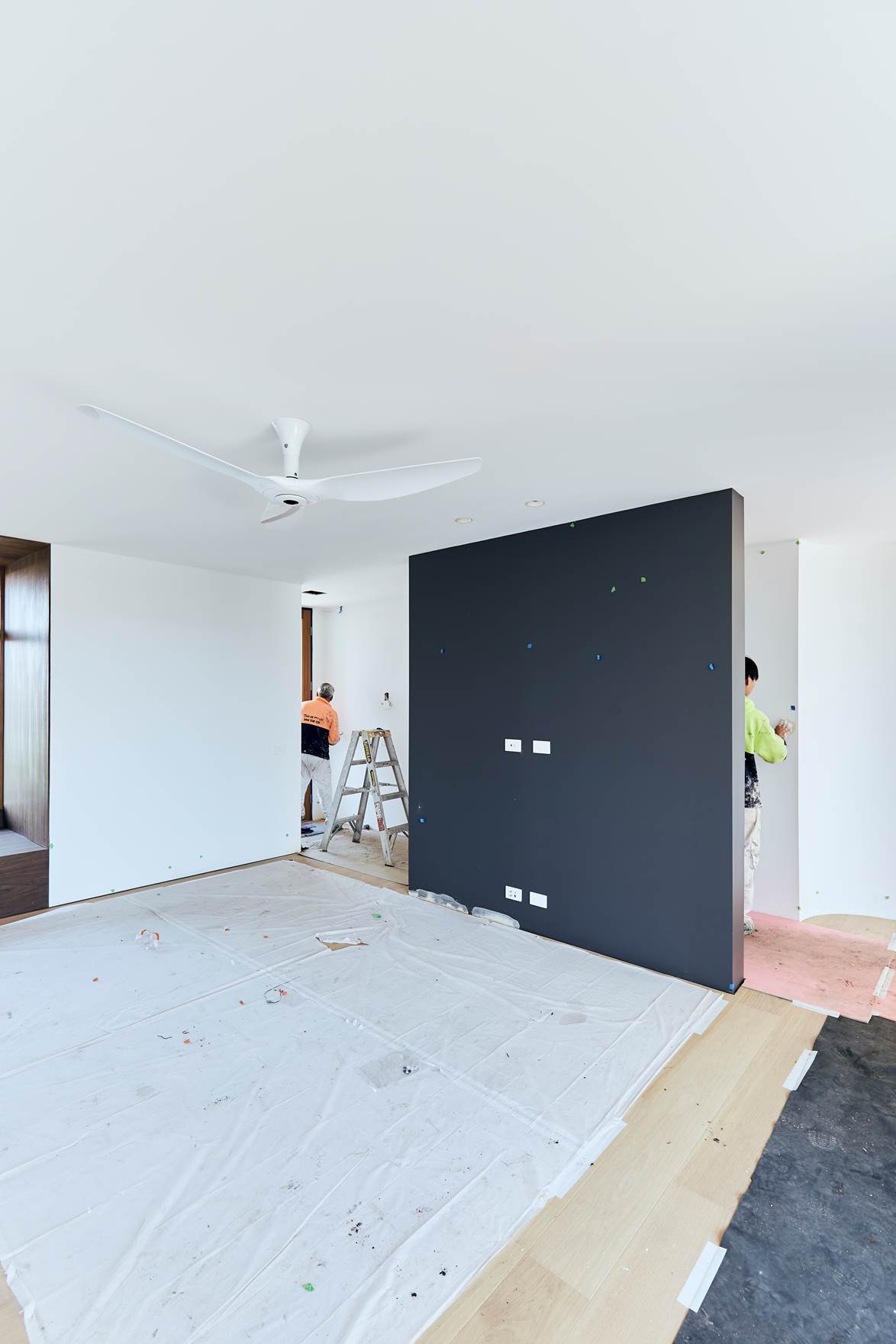 MAY 23, 2018: WE'RE BIG FANS
My Ideal House is a thermally efficient home owing to many factors, including its Hebel exterior and Viridian high-performance glass doors. That means it won't need airconditioning to feel comfortable inside year-round. The only mechanical cooling required for the home is this beautiful Haiku fan in the multipurpose room at the front of the house. An I Series model, the fan was specified for its good looks and superior performance. Not only does it offer an energy-efficient means of cooling, it features built-in sensor technology that responds to the presence of people and to changing room conditions. It turns on automatically when someone enters a room and off when they leave, and it monitors temperature and humidity.
---
MAY 22, 2018: PUTTING THE JOY IN JOINERY
The kitchen at My Ideal House is looking brilliant, thanks to the precise work of the joiners at Top Knot Carpentry & Joinery. Shown here is the appliance tower that houses a Smeg Compact Speed Oven and yet-to-be-installed coffee machine. Because of the heat emitted from the oven Top Knot designed the door to neatly disappear out of the way and into the wall cavity to the left of the cabinet. It's just one beautiful detail in a kitchen that's overflowing with clever inclusions. Polytec is used for the doors and they're fitted with Blum soft-close hardware.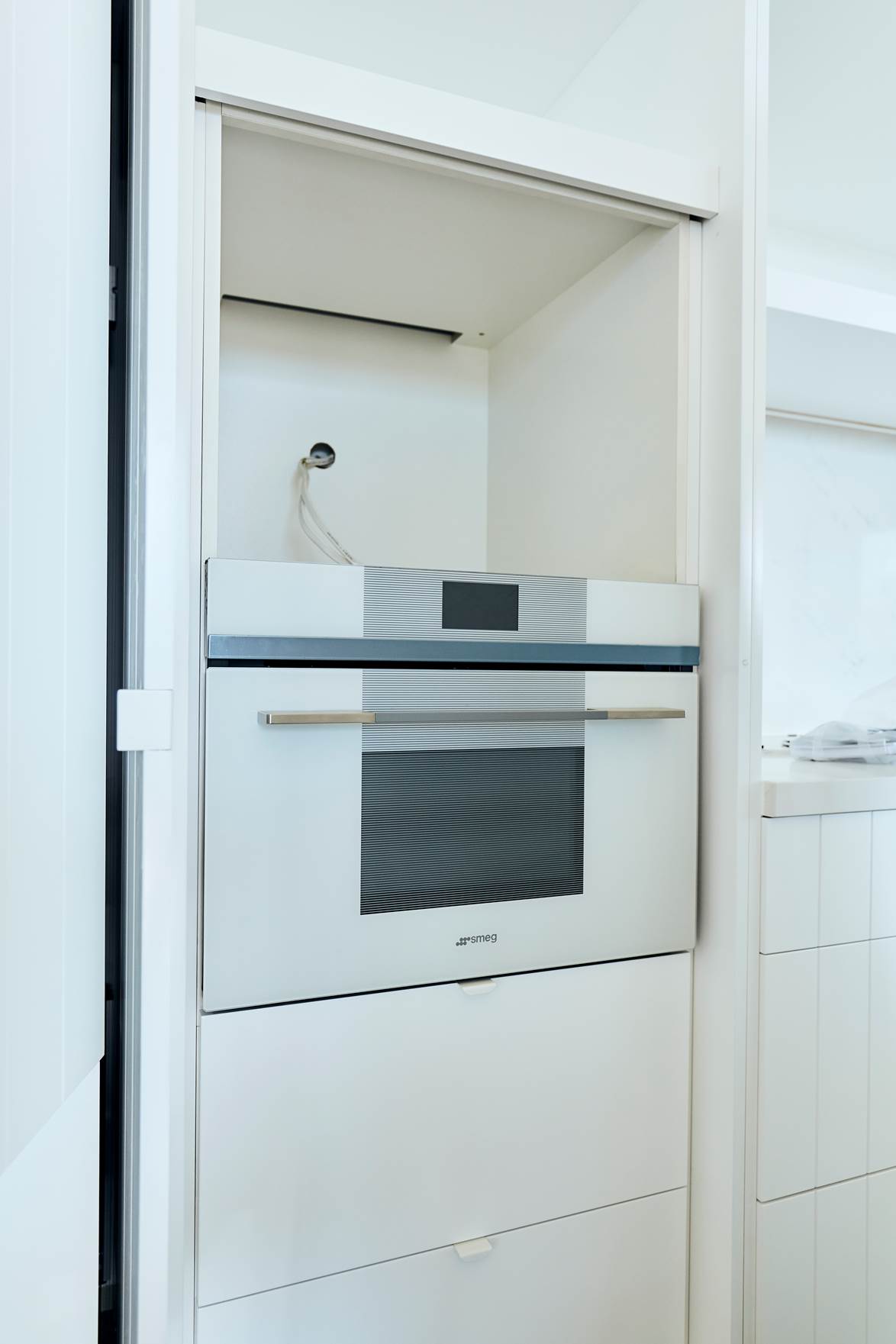 ---
---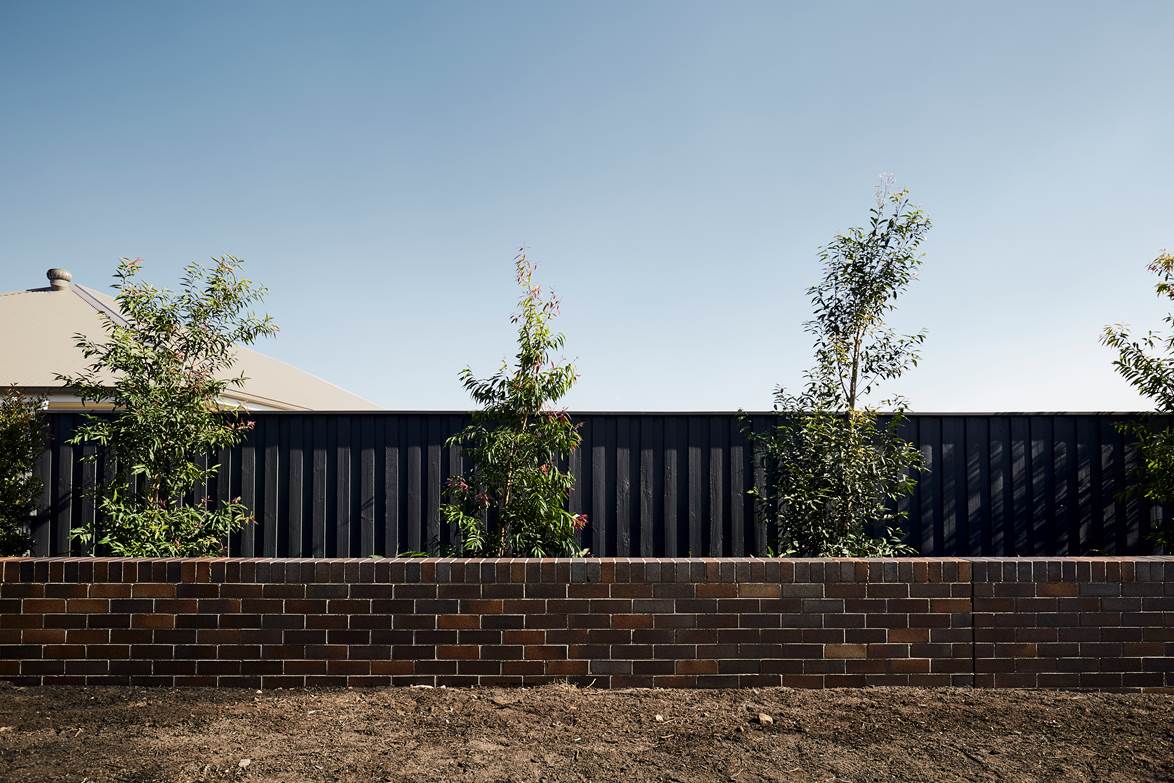 MAY 21, 2018: WONDROUS WALL
As part of the comprehensive plan for My Ideal House, Garden Life landscape designer Richard Unsworth has included a generous brick wall that extends the entire width of the backyard. "The low brick wall adds a nice bit of definition," he says. "It's a simple way of adding structure and an architectural element to the garden." Richard chose Bowral Blue bricks from Austral Bricks for their rich colour and the texture they introduce to the space. The wall is not only a striking visual feature, it's eminently practical. Kids can walk along it and jump off it, you can pull up a coffee table and read the newspaper sitting on it or you can use it as casual gathering spot when friends are over." Planted behind the brick seating are five mature Waterhousea floribunda that will play a role in blocking the afternoon's western sun. "I really like the use of bricks in the garden," says Richard. "Whether they're old and recycled or new and contemporary, brick always looks smart."
---
---
MAY 16, 2018: GRASS-CEL DRIVEWAY GOES IN
My Ideal House is packed with innovative features - and one of the most impressive has to be its grass driveway, which is pictured here just minutes after its installation. So how is a lawn driveway even possible? It's all down to the durable Grass-Cel turf pavers that are laid over the soil base and under the grass. "Grass-cel pavers are made up of hexagonal cells that can be locked together to create a mat of just about any size," says Vicki Weeks, director of Grass-Cel. "The walls of each cell are incredibly strong; they're capable of withstanding a weight of 26 tonnes per square metre, which is far more than your average car or truck weighs." The pavers allow air, water and nutrients to move from the surface to the sub-soil. Grass roots grow down through the holes into the sub-soil to bind and hold the turf paving blocks permanently in place. "You won't get tyre tracks on your lawn and while you do have to water your driveway like you would any patch of grass, it generally recovers pretty well after a period of neglect or having a vehicle parked there too long. The pavers allow for good drainage and deep roots, and that usually results in healthy grass." Perhaps the most impressive environmental benefit of using the Grass-Cel system is the product itself: every paver is made from recycled council wheelie bins. "They're constructed from HDPE plastic, which doesn't rot, break or biodegrade," says Weeks. "That stuff would sit in landfill forever, so we're pleased to be able to repurpose it in a useful way." The lawn driveway has been planted with hardy TufTuf grass from Lawn Solutions Australia.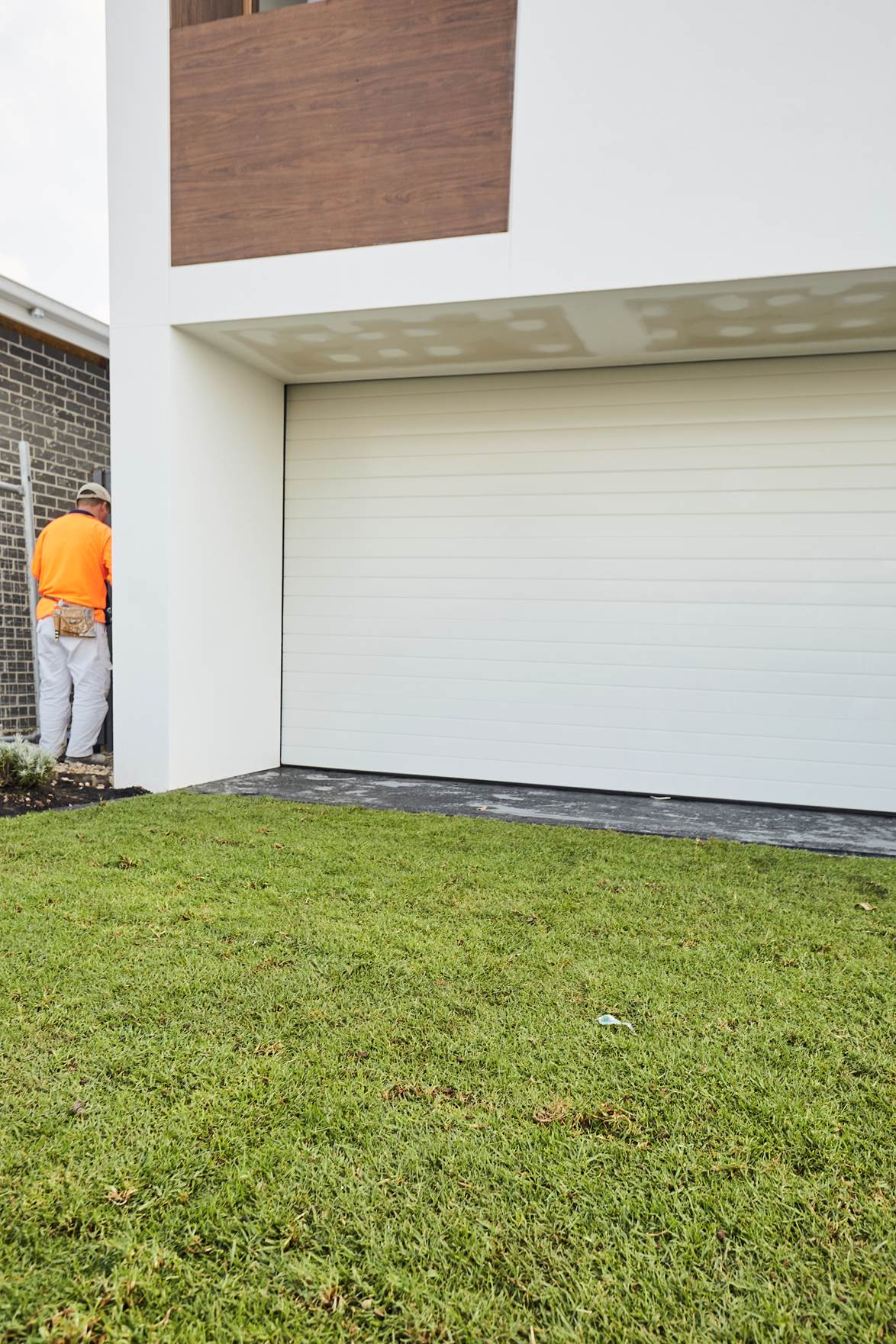 ---
---
MAY 11, 2018: SPOTLIGHT ON THE LIGHTS
My Ideal House is nearing completion now, with electricians installing the home's Brightgreen lights. These energy-efficient LED lights feature right through the home, with the beautiful D900 SH Curve lights making a starring appearance above the kitchen island, as shown here, and in the entry, halls and multipurpose room. The surface-mounted lights draw the eye upwards with their modern design during the day and illuminate the house perfectly at night. Brightgreen's D900 lights have a lifespan of about 70,000 hours and because they're surface-mounted they eliminate the need for cutouts and gaps in the ceiling insulation that could potentially cause thermal leaks.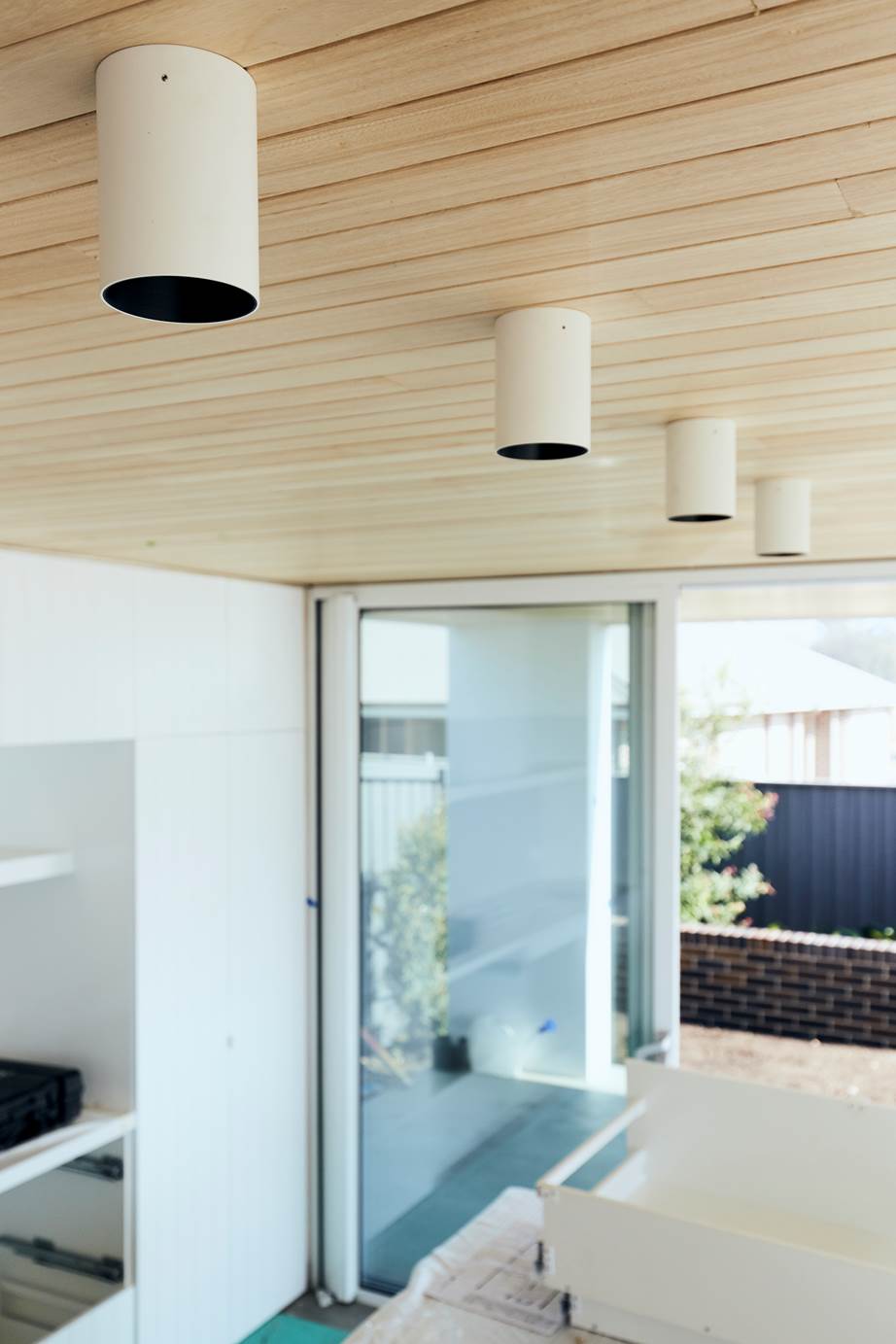 ---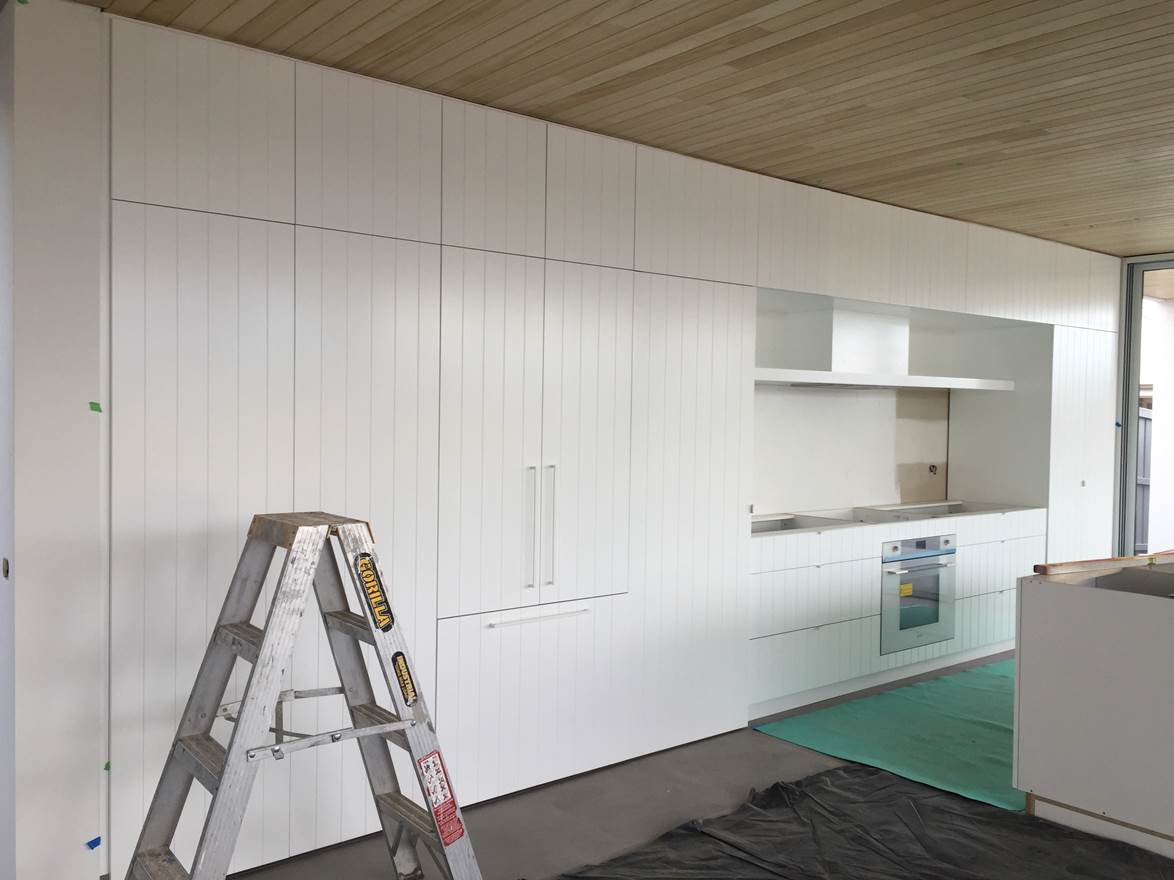 MAY 8, 2018: KITCHEN NEARS COMPLETION
It's still a work in progress, but the kitchen in My Ideal House is looking fantastic. Joiners from Top Knot Carpentry have excelled themselves in realising architect Madeleine Blanchfield's vision for an "almost invisible kitchen that flows seamlessly into the living space of the home". The Polytecdoors feature gorgeous V-groove detailing and conceal all the workings of the kitchen. Tucked behind the cabinetry is an integrated Smeg dishwasher, speed oven and coffee machine. There's a french-door fridge from Winning Appliances tucked in there, too. Tomorrow, the Smeg gas cooktop and Smartstone island benchtop and splashback will be put in and the electrical work completed. The island bench will be wrapped in beautiful Carrara, while the rear bench and splashback are in Absolut Blanc.
---
MAY 1, 2018: KITCHEN GOES IN
Joiners from Top Knot Carpentry have been installing the island bench and cabinetry in My Ideal House today. Beautiful yet understated, the kitchen will be the jewel in the crown of the home. From the outset Madeleine Blanchfield, Sydney architect and winner of the My Ideal House design competition, intended that the kitchen be seamlessly integrated into the very structure of the home. "I like the kitchens I design to be almost indistinguishable from their architecture, particularly when they're open-plan," she says. "They might be partially concealed in walls or have the same finishes as the bones of the building." Her aim is to blur the lines, so the kitchen flows into the broader living space and its key elements begin to feel like pieces of furniture. In keeping with the 'invisible kitchen' idea, having white joinery and handles was the obvious choice. Satin polyurethane doors and drawers with a V-groove profile have been specified and they will be fitted with Blum soft-close hardware and matt-white powdercoated handles. The lines in the joinery are carried through in the ceiling, which are clad with 90mm Glosswood prefinished lining boards in Clear Ash. Positioned over the island bench there will be dual sets of two Brightgreen D900 SH Curve surface-mounted downlights. They will provide excellent task lighting when it's required and look sleek against the ceiling while they're not in use.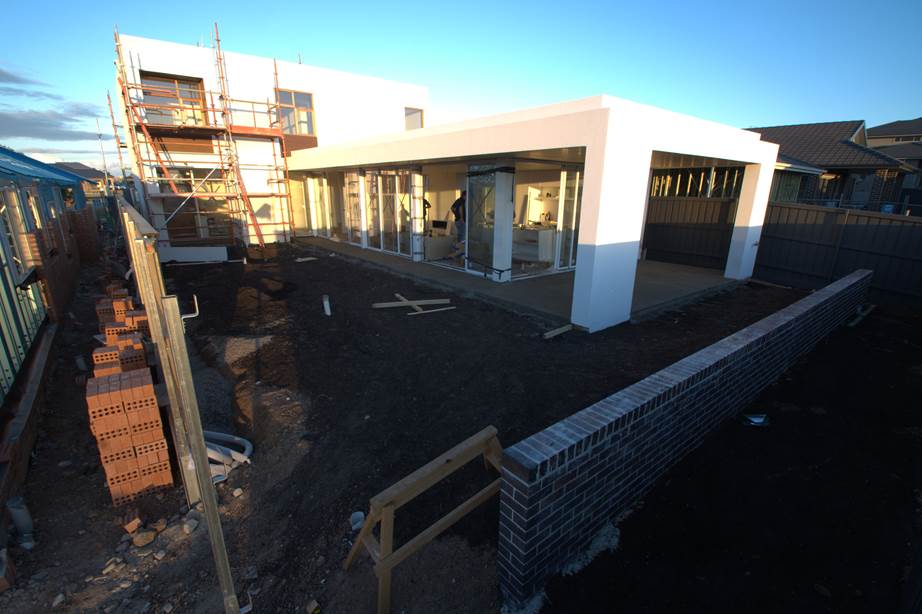 ---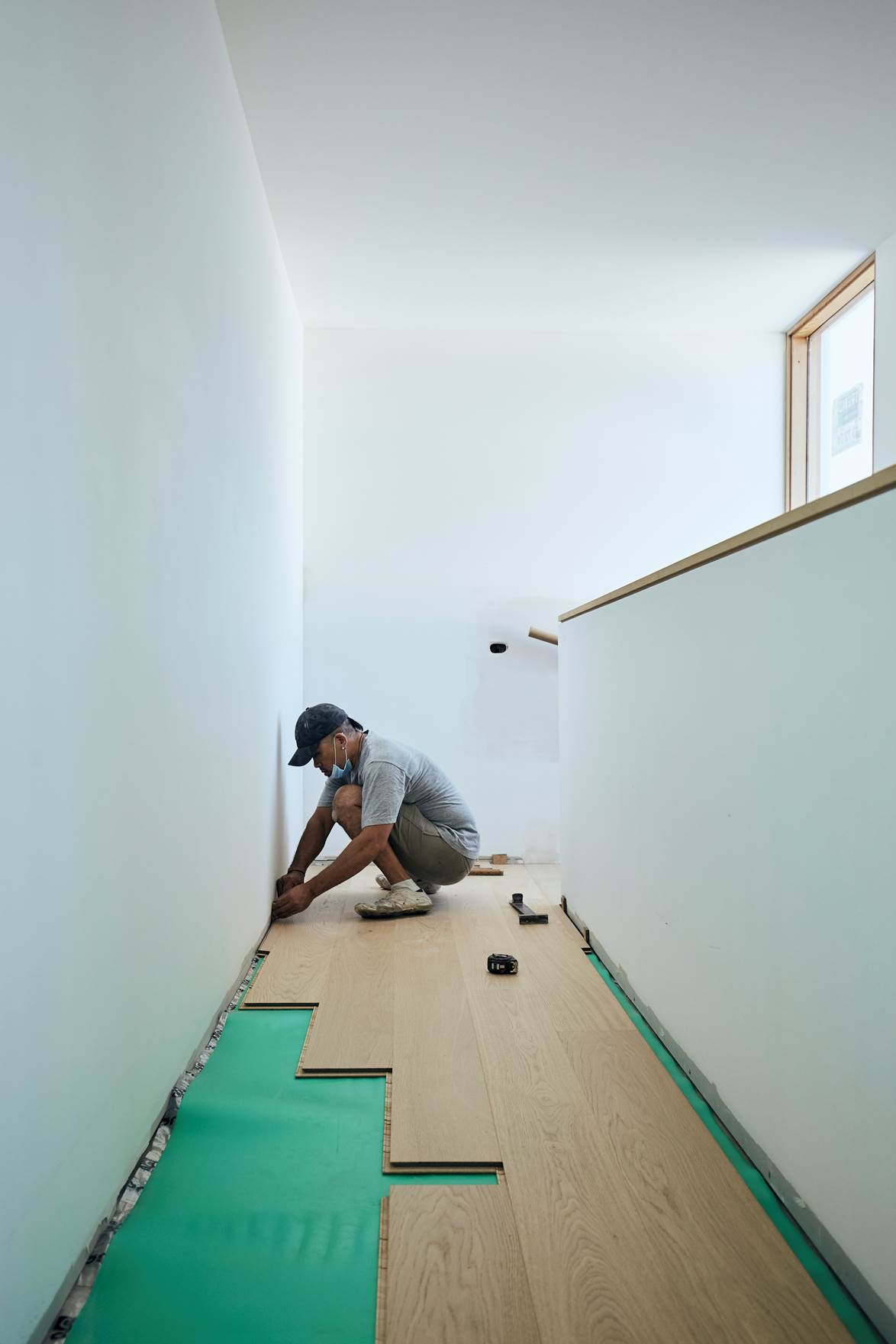 APRIL 23, 2018: TIMBER FLOORS IN PLACE
Installers have been hard at work at My Ideal House, completing in one day the task of putting down its beautiful timber floors. Quick-Step's Palazzo Collection in Pure Oak Matt is the engineered-timber flooring that's been specified; it appears in the multipurpose room at the front of the house and in all upstairs bedrooms. "It's a clean, tailored, blonde oak floor with low colour variation," says Kendall Waller, National Technical and Product Manager for Quick-Step. "The European oak we source to make these boards is of the highest grade and contains very few knots and marks." Palazzo Collection boards are 190mm, a width that was once considered oversized but is now very much the standard. They have a slight bevel to their edge, too, which adds depth and perspective to the room.

To lay the upstairs floating boards, a high-quality underlay is placed on top of a particle-board base that's been cleaned and sanded for level consistency, says Roderick Petre, NSW Operations Manager for Mirvac. "The Quick-Step boards are then laid on the underlay with a 10mm clearance, to allow for some floor movement, around all walls," he says. A lacquer finishes the boards and provides them with additional durability. "Wire brushing the lacquer gives the boards a very nice surface texture. The end result is good looking and easy to look after," adds Kendall. The boards are also PEFC certified, which indicates that their timber comes from sustainably managed forests. The Quick-Step timber floor has a lovely soft colour that adds warmth and depth to the house.
---
---
APRIL 18, 2018: ALL SET FOR BRICK SEATING
One of the features Garden Life landscaper Richard Unsworth has incorporated into his design is a low brick seat for the rear of the garden. It will extend the entire width of block, adding not only visual interest but plenty of additional outdoor seating. These bricks will also be used in the paved terrace and the brick-lined paths in the front garden. Richard opted for Bowral Blue bricks from the Bowral Satin range at Austral Bricks. A row of trees will be planted behind the brick wall for shade and texture.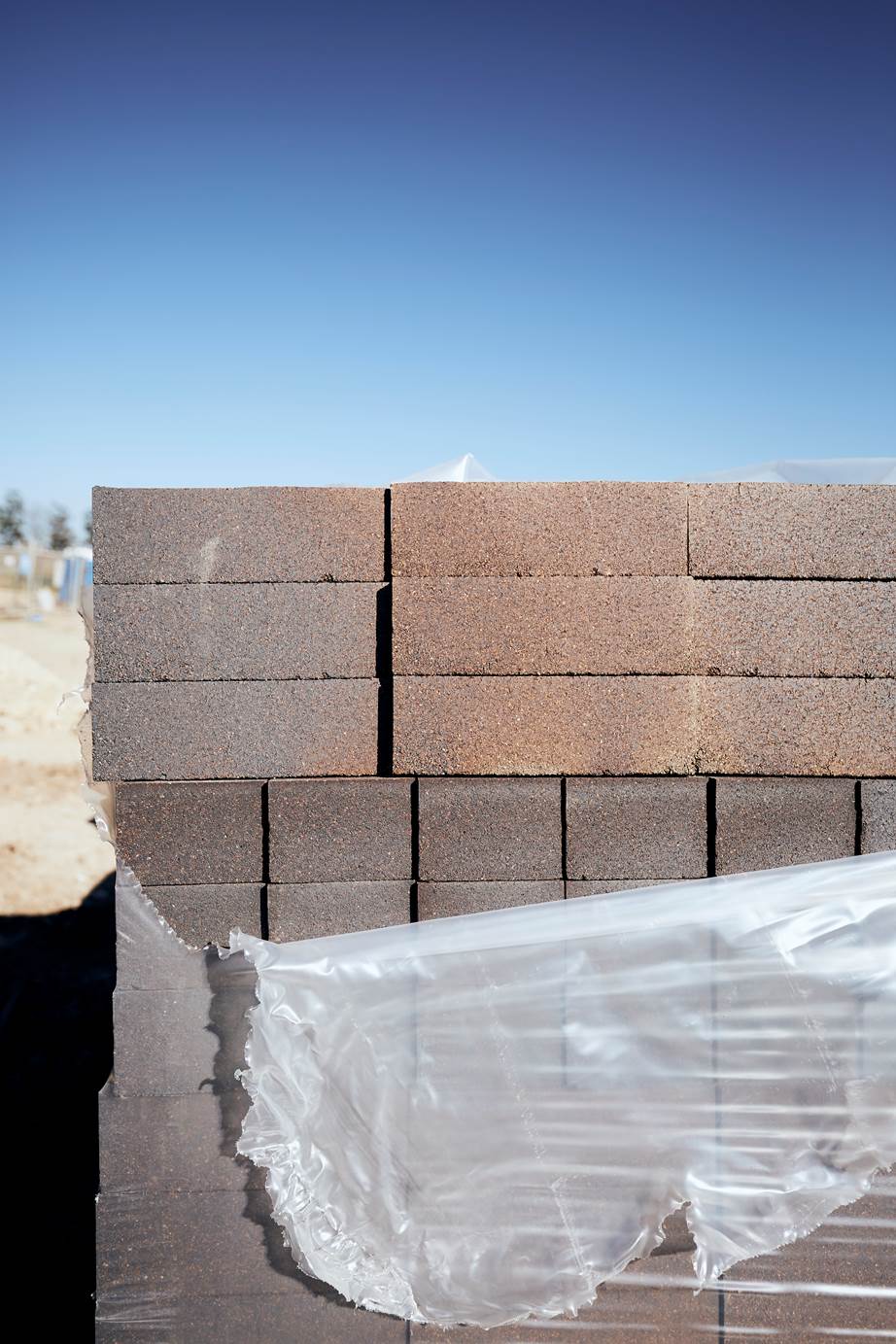 ---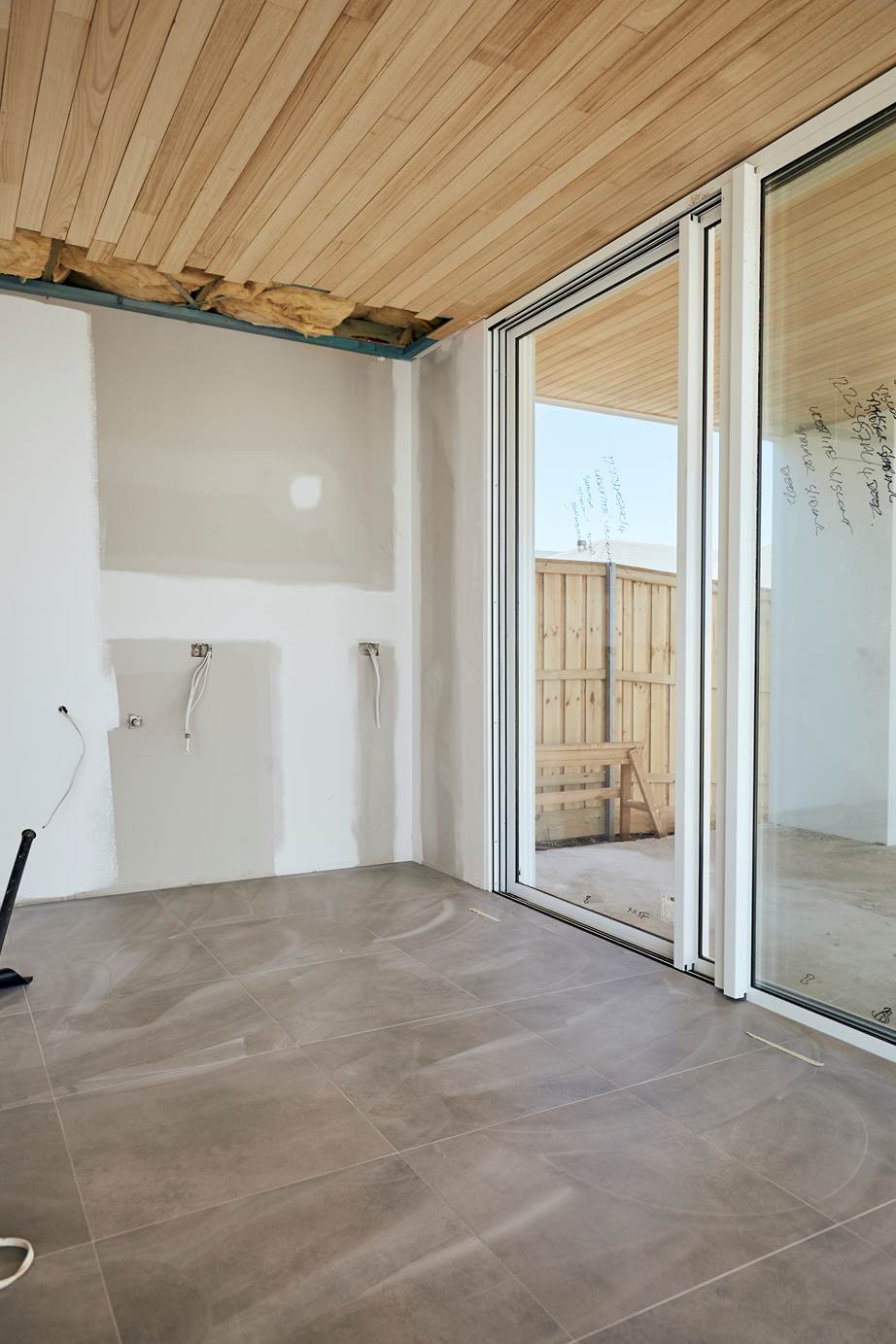 APRIL 15, 2018: FLOOR TILES LAID
My Ideal House now has its floor tiles in. The 600x600mm grey porcelain tiles flow right through the ground floor's living areas. "These concrete-look tiles will provide the perfect base for the house's interiors," says Tina Di Lorenzo, marketing manager for Di Lorenzo Tiles. "They're contemporary, extremely durable and simple to maintain. They'll enable the future owners of the home to update its look with ease in years to come." The generous, rectified-edge tiles also feature in the home's bathrooms and flow outside (but they will differ slightly, in that they'll have a textured finish so they're non-slip)
---
---
APRIL 9, 2018: DOORS INSTALLED
In this photo you can see a stack of floor-to-ceiling Viridian LightBridge high-performance glass doors, waiting to be installed into My Ideal House. This work is now complete - the doors are gliding beautifully on their aluminium runners - and represents a significant milestone in the My Ideal House build, because it means the house has reached lock-up stage. The glass doors play a critical role in the My Ideal House concept. The rear living zone, seen here, is in effect a glass pavilion that creates a seamless connection between the home and garden. In order to bring this crucial element of her design to life, architect Madeleine Blanchfield specified Viridian LightBridge double-glazed doors, allowing her to include expansive glass areas in her design while not compromising on energy efficiency. Choosing high-performance, double-glazed doors means the permissible glass area in My Ideal House can be significant but still allow the house to achieve a good Nationwide House Energy Rating Scheme star rating.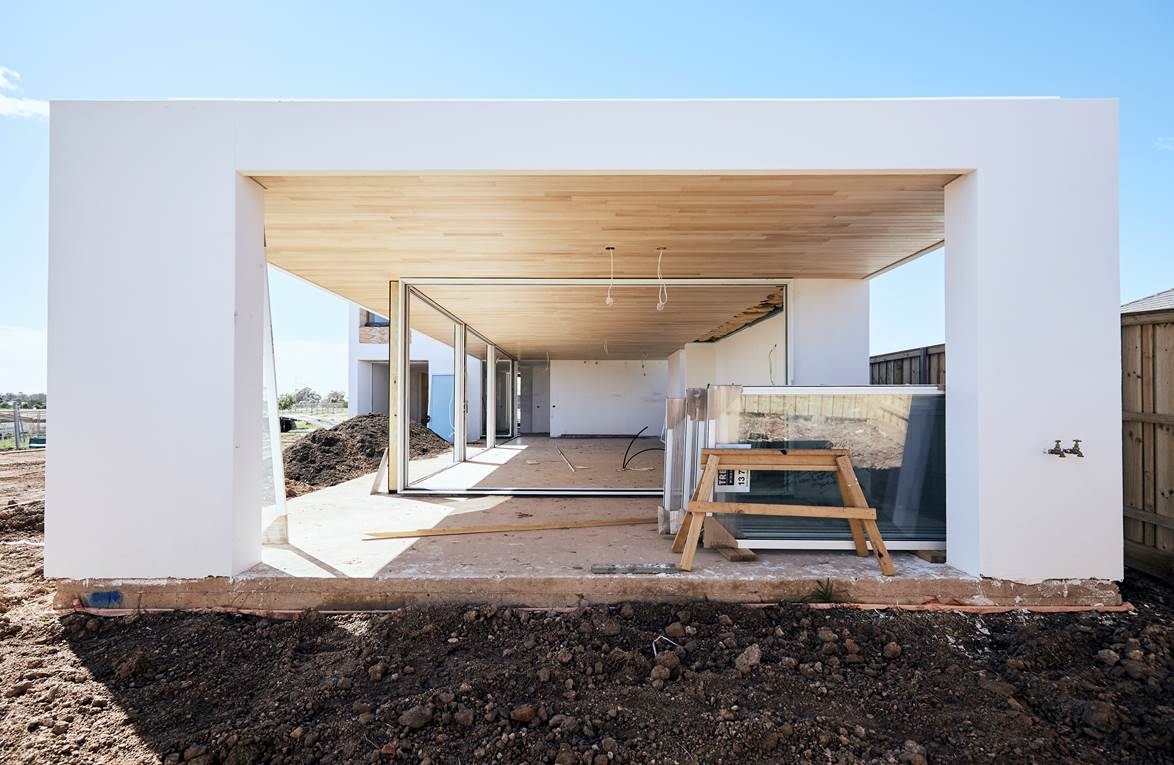 ---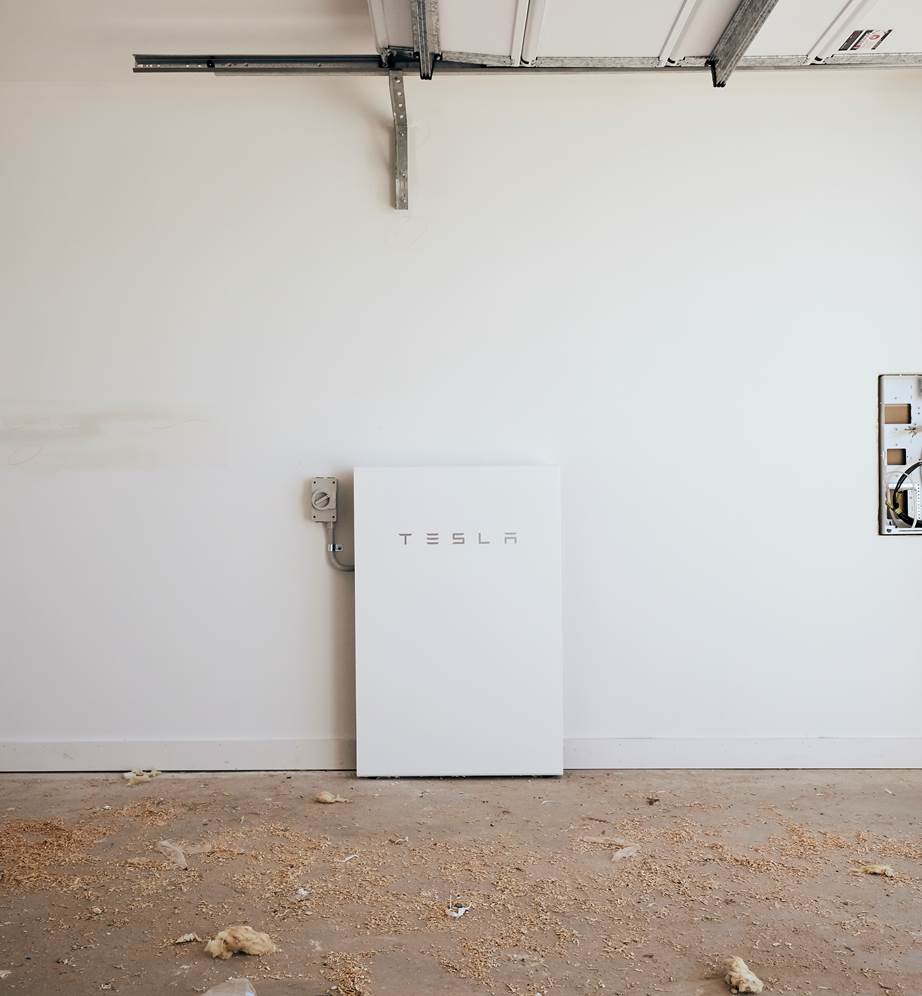 APRIL 4, 2018: BATTERY BRILLIANCE
Sitting neatly and discreetly in the garage at My Ideal House is the Tesla Powerwall 2 solar storage battery from Bradford Energy, ready to swing into action and provide solar energy to the house every evening. It's part of the Bradford 5.4kW Solar ChargePack, which includes 5.4kW solar panels that are now affixed to the roof. This smart inclusion in the home will see the future owners of My Ideal House save between $25,000 and $30,000 on their electricity bills over 10 years.
---
---
MARCH 28, 2018: SOLAR AND BATTERY INSTALLED
A team from Bradford Energy has been working on My Ideal House this week, installing and wiring up its Tesla Powerwall 2 solar-storage battery. Situated in the garage of My Ideal House, this state-of-the-art battery will function as the night time centre for the home's electricity requirements, offering the household 13.5kWh of useable stored solar energy. It has a built-in inverter and can be controlled via an easy-to-use monitoring app. Tesla Powerwall 2, combined with a 5.4kW Bradford photovoltaic panel system, should be more than sufficient to cover most of My Ideal House's daily electricity needs – and its future owners may find themselves regularly exporting power back to the grid. "It will give a family of four the ability to achieve up to 90 per cent self-sufficiency on an average day, saving them thousands on their annual energy bills," says Ashleigh O'Brien, Bradford Energy Business Manager. "Solar and home battery storage gives control back to individual homeowners, enabling them to store, use and manage their electricity like never before."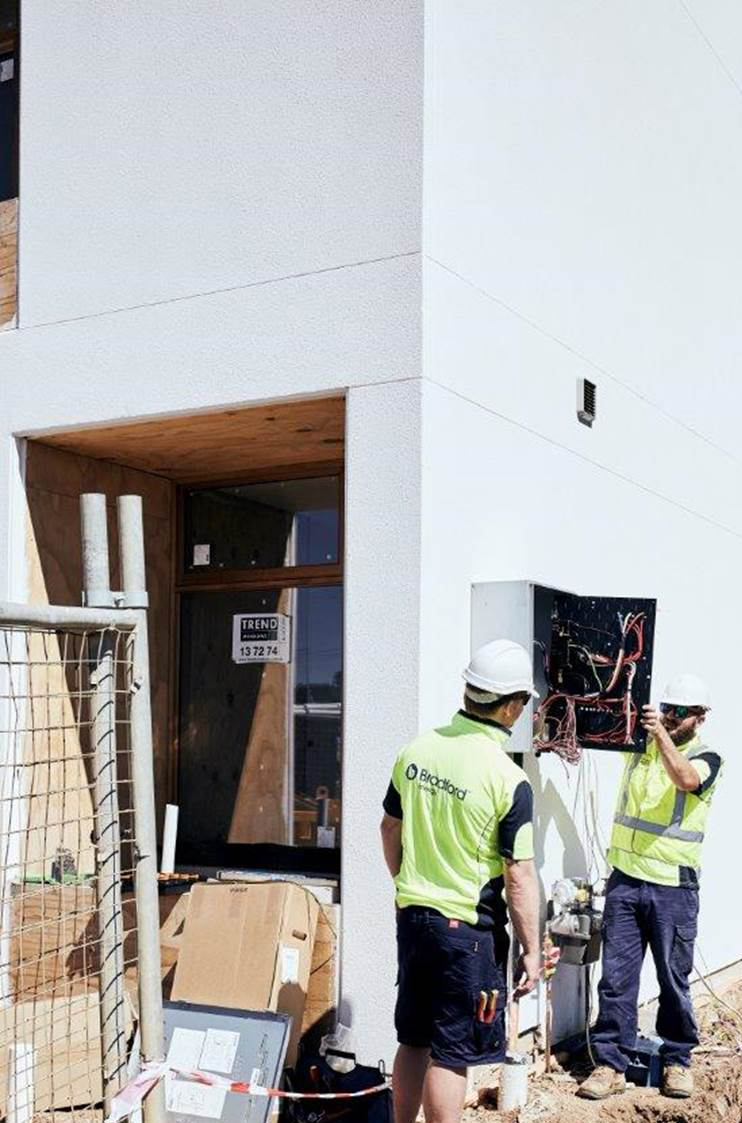 ---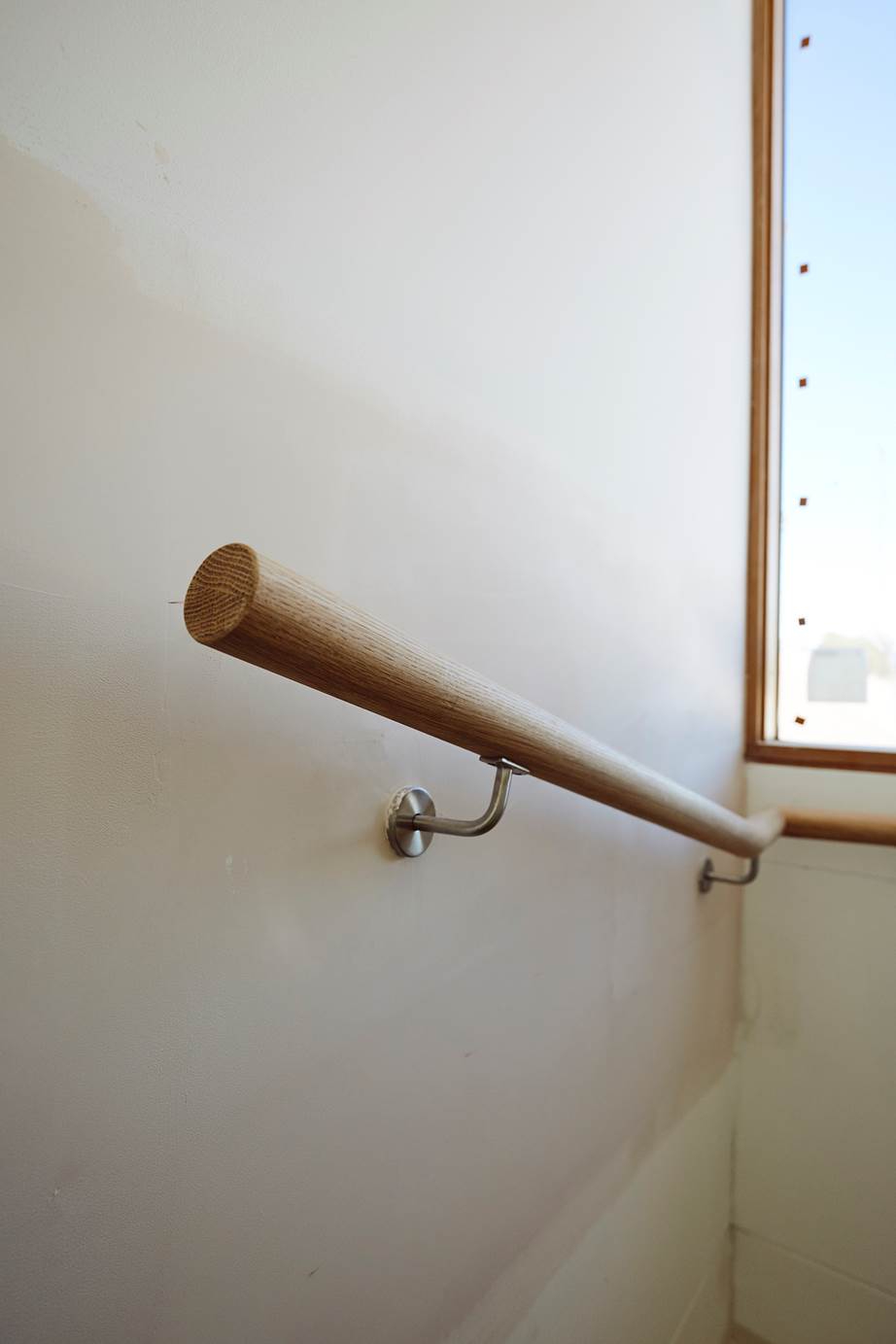 MARCH 27, 2018: IT'S IN THE DETAIL
Every visit to the My Ideal House site at Crest by Mirvac reveals glimpses into the lovely home it will be upon completion. Take, for instance, this recently installed blonde-timber handrail. It's this kind of attention to detail that sets My Ideal House apart.
---
MARCH 21, 2018: DIRT AND DIGGERS
Work on the garden around My Ideal House has commenced, with topsoil brought in and ready to be spread and levelled. Planting will begin soon, too, to allow plants a chance to settle and mature as the final few weeks of the build take place. Garden Life landscape designer Richard Unsworth has designed an affordable and achievable scheme for My Ideal House. He plans to put crepe myrtles along the rear fenceline and herbs and vegetables at the front. The home will also have a state-of-the-art Grass-Cel turf driveway, an aesthetically pleasing and environmentally sensitive alternative to traditional driveways.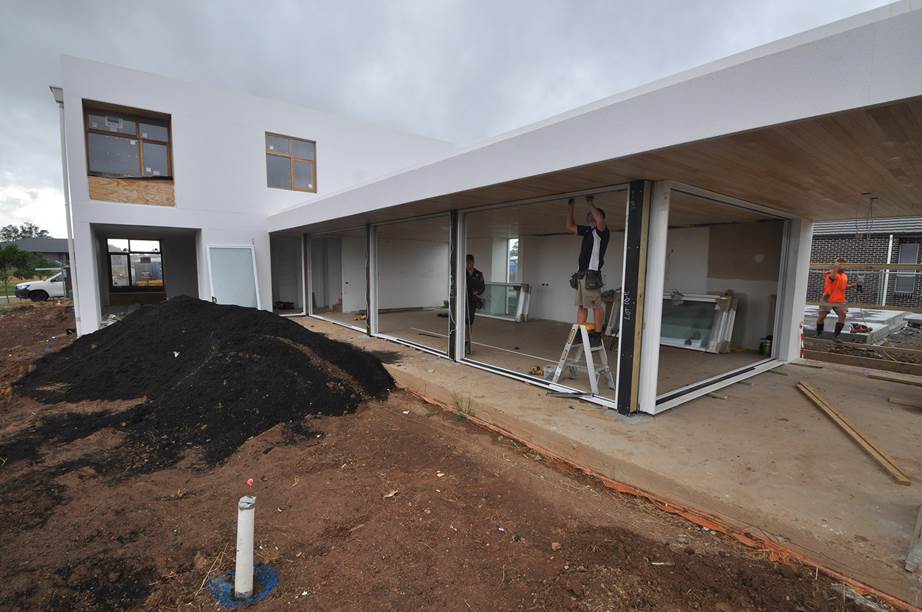 ---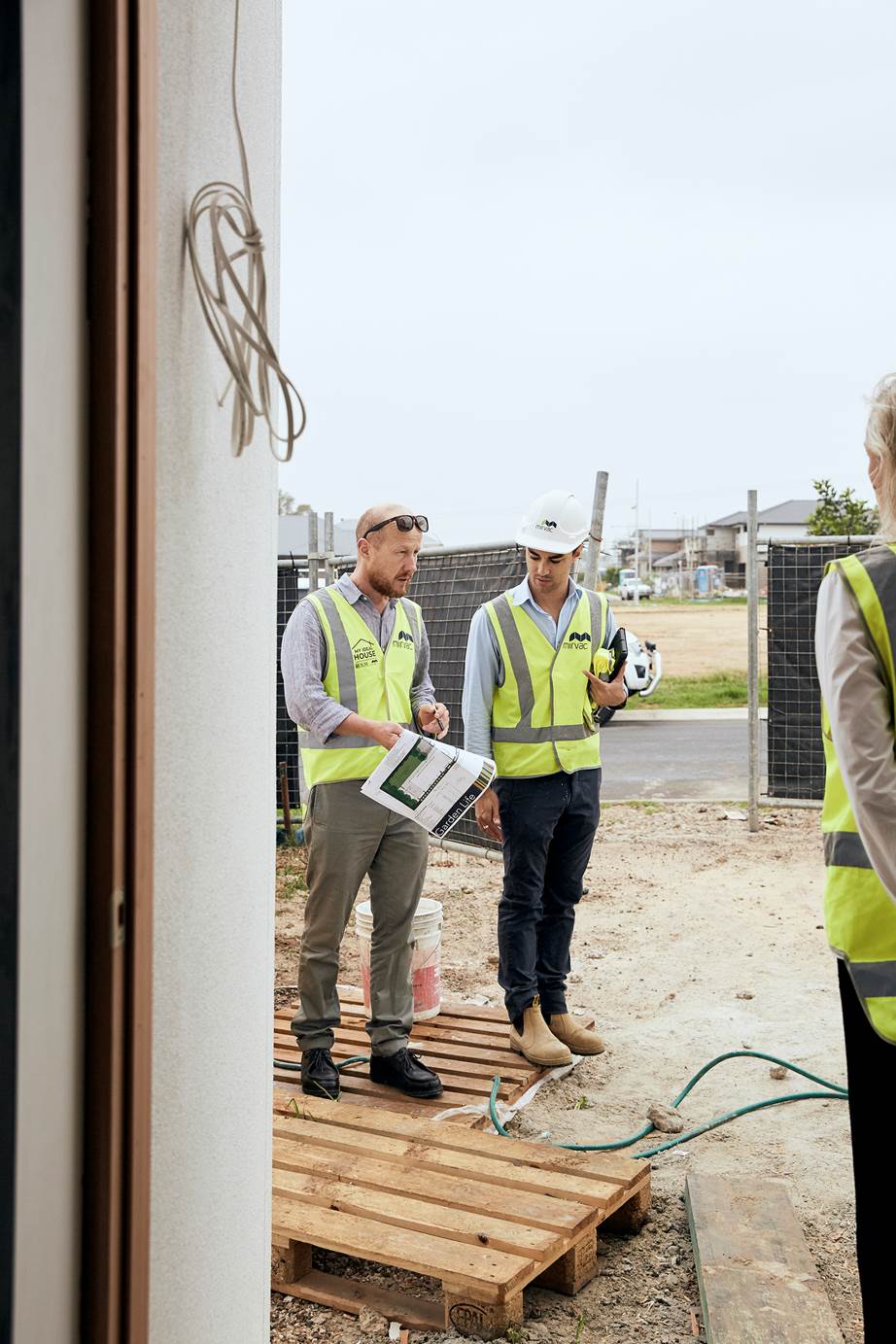 MARCH 20, 2018: LANDSCAPING UNDERWAY
With work on the house progressing well, attentions have turned to its surrounds. Garden Life landscape designer Richard Unsworth visited the My Ideal House site recently, ahead of work beginning. He's seen here on the left with Mirvac's Troy Hamer, at the right. Contractors are currently onsite and busily clearing, levelling and prepping the backyard for the planting Richard has planned.
---
MARCH 15, 2018: KITCHEN PREVIEW
Inside House & Garden's special 70th anniversary edition – on sale now – you'll spot a sneak preview of how the kitchen in My Ideal House will look on completion. The renders by Madeleine Blanchfield Architects show it fitted with the latest and best Smeg appliances – in white, to help the space blend beautifully into the very structure of the home. The island bench will be topped with Smartstone reconstituted stone in Carrara, flowing down to the floor and featuring striking detailing in the form of a crisp join line that sits beneath the benchtop. An integrated french door fridge from Winning Appliances will be tucked away behind V-groove joinery, along with a clever appliance tower that keeps visual clutter to a minimum. To read more about the My Ideal House kitchen, pick up a copy of this month's House & Garden magazine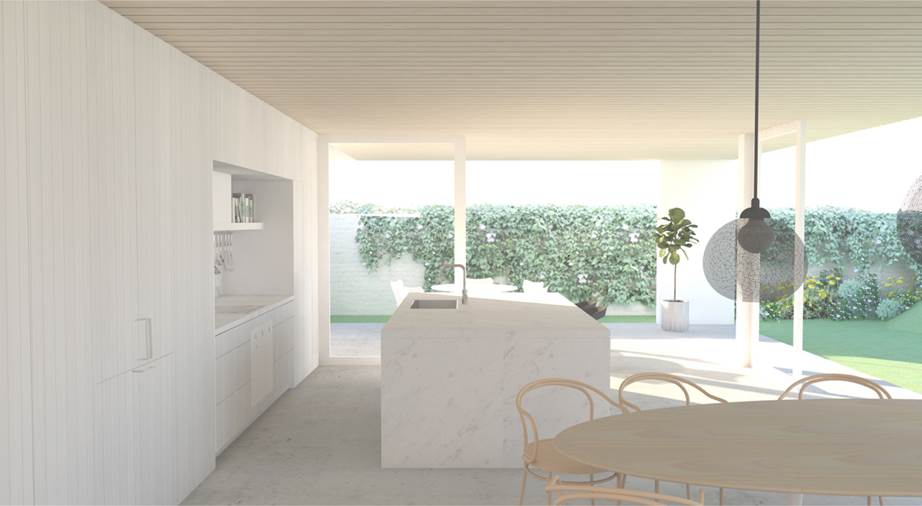 ---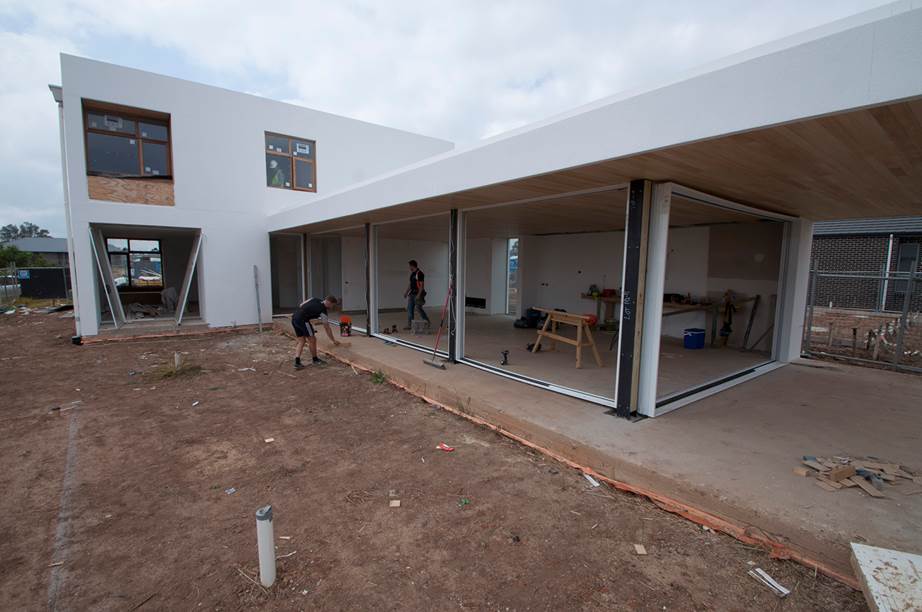 MARCH 14, 2018: IN THE FRAME
Installers have been onsite at My Ideal House today, putting in the aluminium frames for the Viridian LightBridge high-performance sliding glass doors. Once the glass goes in, the house will have reached lock-up – a significant milestone in any build. Glass plays a pivotal role in My Ideal House, enabling the beautiful connection between indoors and out that competition-winning architect Madeleine Blanchfield had as one of the touchstones of her design. These high performance double-glazed glass doors offer excellent temperature and UV control, noise reduction and security.
---
---
MARCH 13, 2018: LOCK-UP IN SIGHT
My Ideal House is very close to reaching lock-up stage now, with the large Viridian LightBridge high-performance glass doors soon to be in place. Carpenters have been onsite this week, installing the striking Glosswoodceiling. These prefinished, maintenance-free lining boards are used throughout the home's living areas and constructed from sustainable paulownia. They'll pick up the matte blonde tones of the Quick-Stepengineered oak floors that will feature in other rooms of the house.
---
---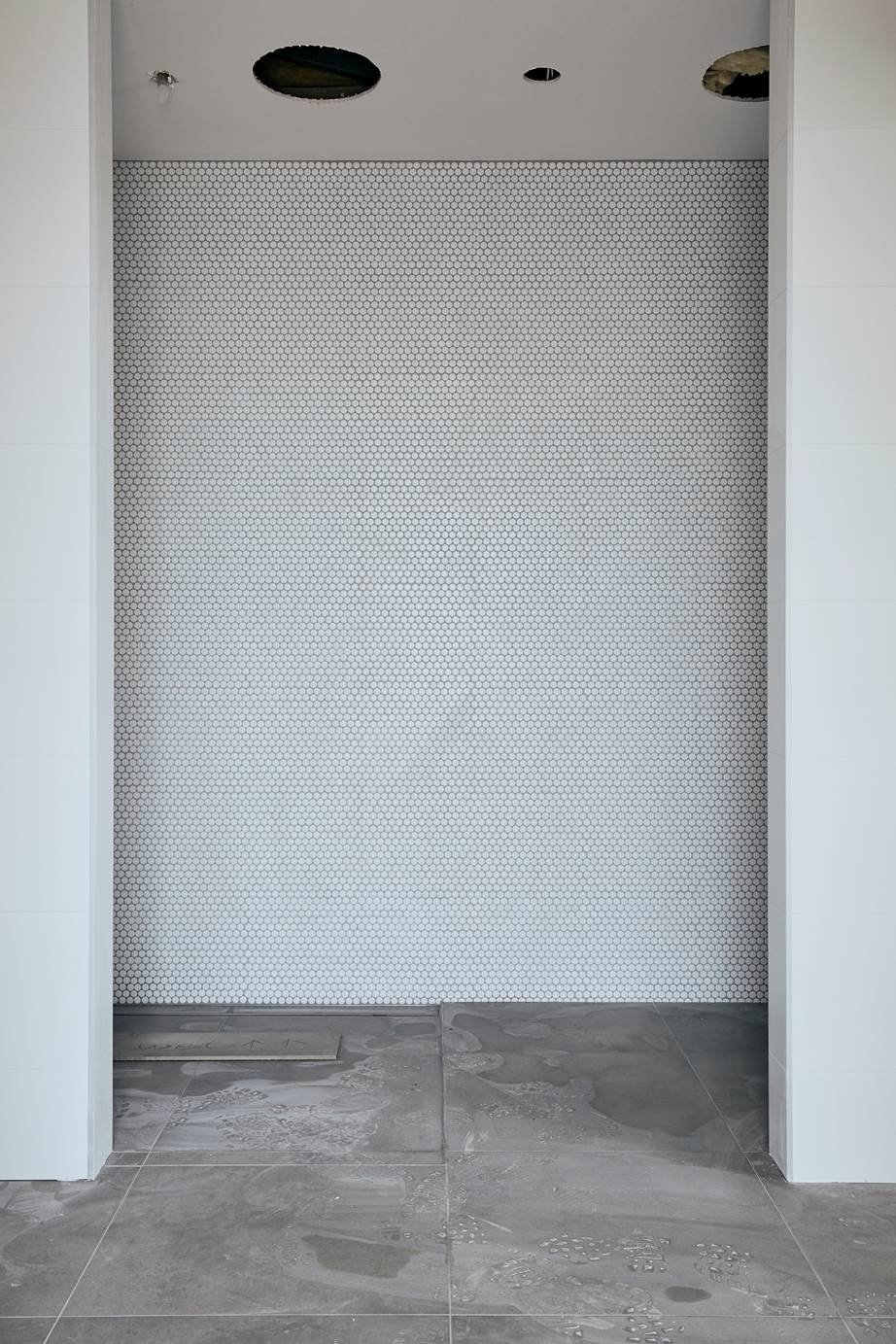 ---
MARCH 6, 2018: TIME FOR TILING
Tilers have been hard at work on My Ideal House, laying Di Lorenzo tiles in the home's various wet areas. The main bathroom features White Satin 300x600mm rectified ceramic tiles while the ensuite, shown here, has neat penny round mosaics complemented by a grey grout.
---
MARCH 5, 2018: GARAGE DOOR INSTALLED
An installation team from B&D has completed the garage door on My Ideal House. The Panelift door sectional door will help keep the home safe and secure, and a Dover White finish was specified to ensure it blends well with the facade. The garage door comes with the latest in quiet, auto-opening technology.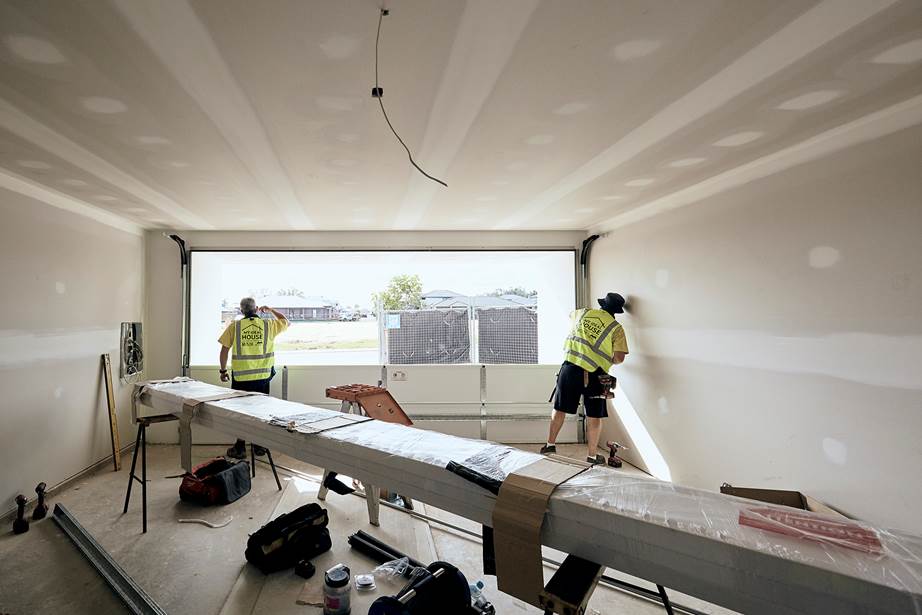 ---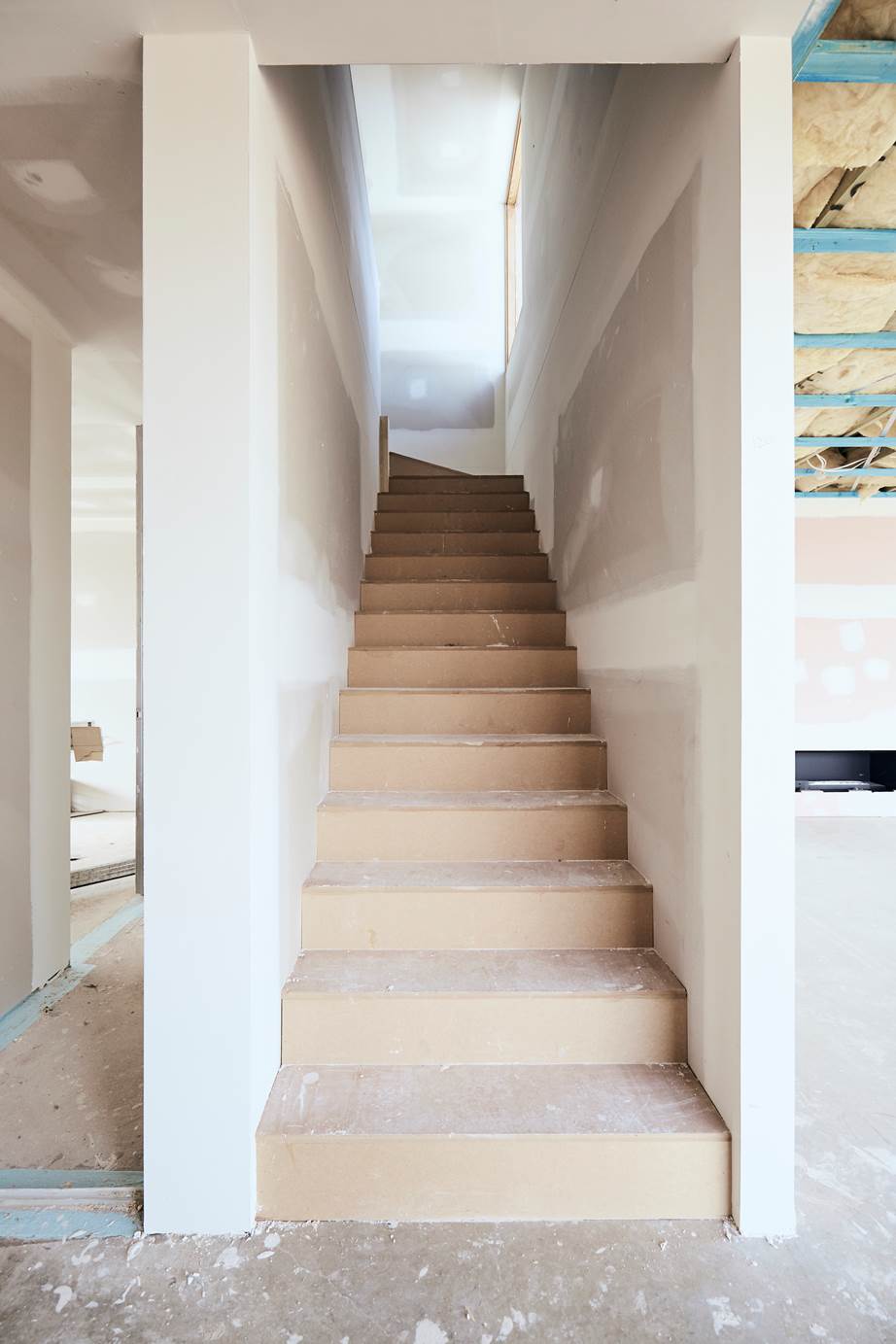 FEBRUARY 28, 2018: STAIRS IN PLACE
Work continues at a rapid pace on My Ideal House at Crest by Mirvac. The stairs linking the ground and first floor are now installed and looking good. The internal walls will receive a first coat of paint this week - TaubmansIllusive White – and tiling is about to begin on the home's wet areas.
---
FEBRUARY 26, 2018: FIRING UP
One of the star features of the living zone of My Ideal House – its Real FlameSimplicity 1500 gas fireplace – has now been installed, providing a wonderful glimpse into how comfortable and cosy the finished space will be. Designed and made in Australia, the contemporary styling of the Simplicity 1500 makes it a perfect fit for My Ideal House. Tradespeople have been onsite setting the fireplace flush into the wall, so the Gyprock installation around it can be finalised. The external venting is in place and ready to warm the room once the home is complete.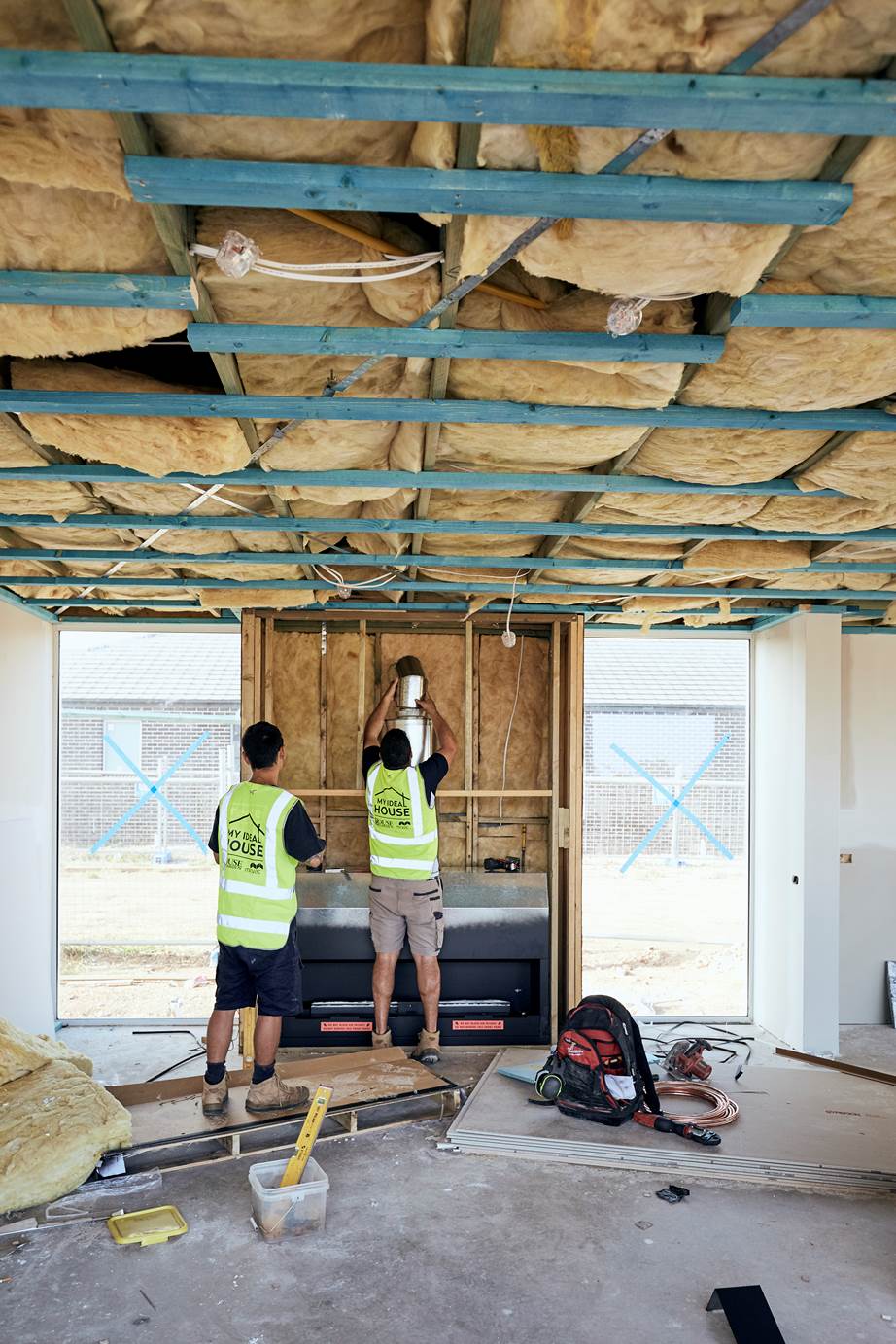 ---
---
FEBRUARY 13, 2018: THE SCAFFOLDING IS OFF
With its cloak of scaffolding now removed, My Ideal House is looking increasingly like the lovely family home it will be on completion. The façade is rendered, painted Taubmans Crisp White and now awaiting its Innowood planter boxes, which are set to be one of the most striking features of the home's design. The home's white B&D garage roller doors will soon be installed, along with the Corinthian cedar front door.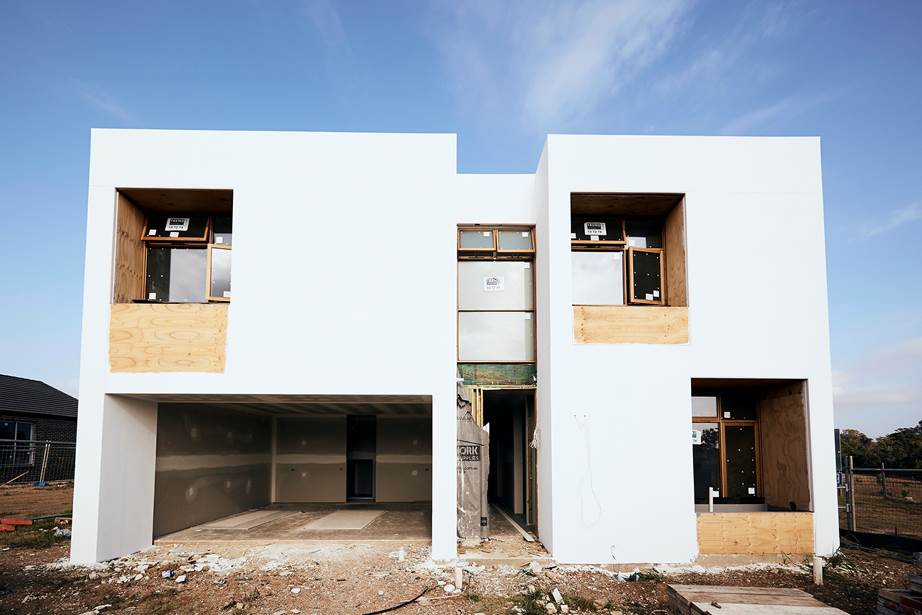 ---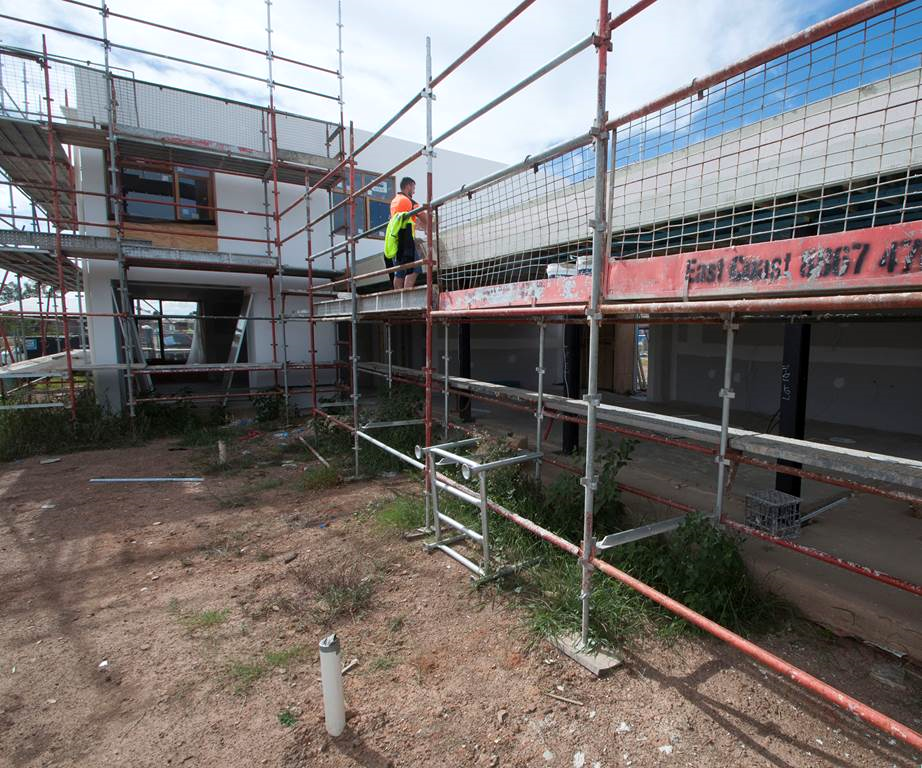 FEBRUARY 5, 2018: GYPROCK GOES IN
More rendering has been happening at My Ideal House, with the rear living areas receiving their coat of render. The signature planter boxes on the house's façade were waterproofed last week, too. A team from CSR Bradford was onsite to put in the wall batts and ensure the house will be well insulated. With the insulation installed, work on the Gyprock internal walls could begin. An experienced team took on this task and was able to have it almost complete within two days.
---
JANUARY 22, 2018: NEW YEAR, NEW HOUSE
Tradies are back on the job after a good summer break and work is continuing on the My Ideal House build at Crest by Mirvac. The plumbing and electrical rough-in has been completed and the garage door measured up. Work this week will see ceilings prepared for their Glosswood lining and the downstairs wet area completely waterproofed. It's also expected that the Hebel panels on the rear living pavilion will be rendered. A team from CSR Bradford will be onsite, too, roughing in the Tesla Powerwall solar storage battery.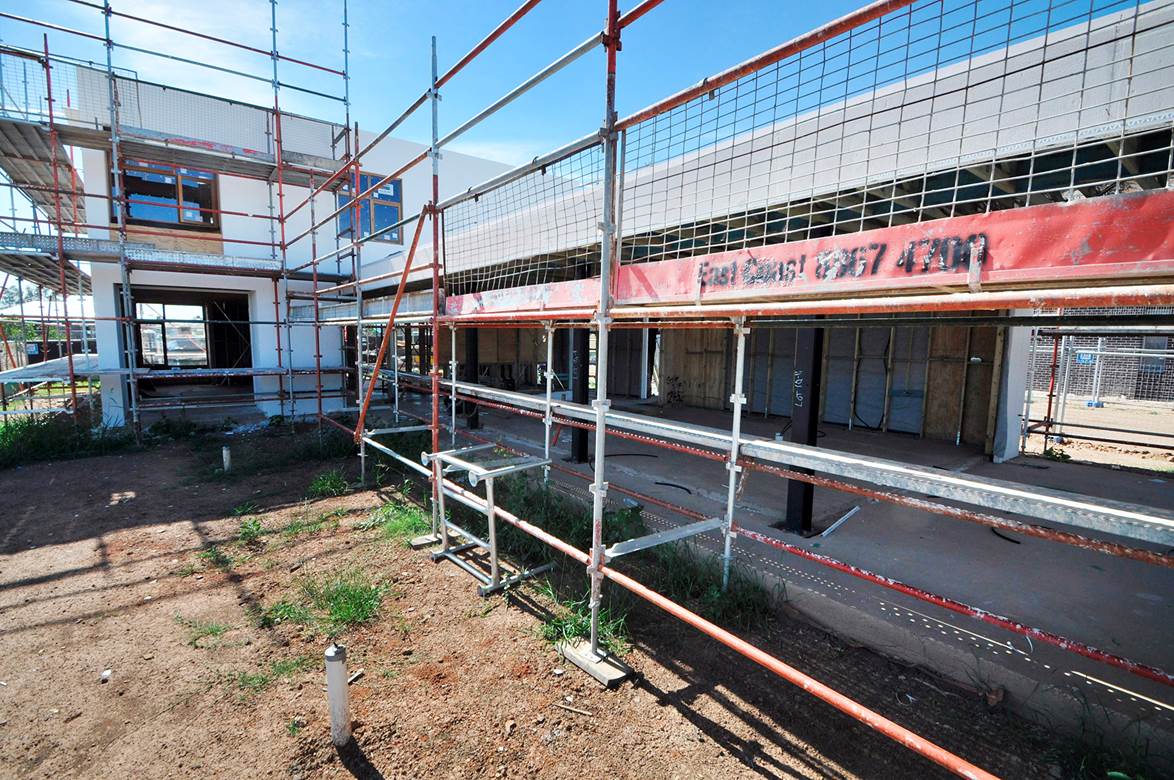 ---
DECEMBER 18, 2017: WALL WORK
Rendering has now been completed and a first coat of paint applied to the front section of My Ideal House. Last week the scaffolding was dropped to allow the rear part of the roof to be installed. Roof battens and sheeting are in place now and work has continued on fascias and gutters for the front of the home. The next major undertaking on the build team is the plumbing rough-in. "Early in the new year we'll have the electricals roughed in too, and that will be another significant milestone met - it will mean we can get started on the Gyprock walls," says Roderick Petre, NSW Operations Manager for Mirvac.
---
NOVEMBER 27, 2017: PANEL POWER
Photovoltaic panels have now been fixed to the roof of the front section of My Ideal House. The future owners of My Ideal House save between $25,000 and $30,000 on their electricity bills over 10 years. "A 5.4kW Bradford Solar ChargePack with Powerwall 2 will allow a family of four the ability to achieve up to 90 per cent self-sufficiency on an average day," says Ashleigh O'Brien, Business Manager for Bradford Energy.

"Solar and home-battery storage is the future for energy management. It gives control back to individual households, enabling homeowners to store, use and manage their electricity as never before." The Tesla Powerwall 2 is a latest-generation wall-mounted, lithium-ion battery that stores the excess energy generated by rooftop solar panels.

It will enable the owners of My Ideal House to use the energy from their solar panels during the day to power their home with solar energy at night.
---
---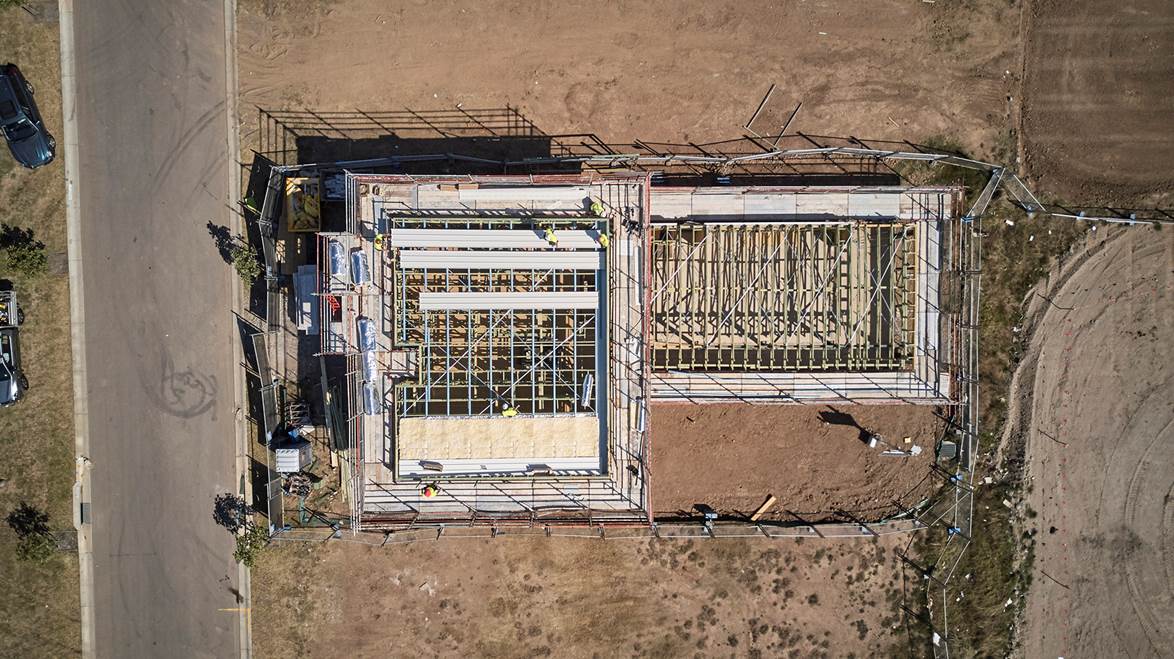 NOVEMBER 20, 2017: HEBEL EXTERIOR CLADDING INSTALLED
House & Garden's My Ideal House edges nearer to completion at Crest by Mirvac, in Sydney's south west - its Hebel exterior cladding is now installed on the upper and ground floors. "The beauty of using Hebel is that it goes up quickly," says Roderick Petre, NSW Operations Manager for Mirvac. "In terms of material performance, it's hard to beat Hebel. The thermal and acoustic properties of this autoclaved aerated concrete product are excellent and it delivers the homeowner a consistent, cohesive look.

In addition to looking good, Hebel offers some great environmental benefits. "Independent testing shows that the PowerPanels installed on My Ideal House use 60 per cent less embodied energy and produce 55 per cent less greenhouse emissions compared to concrete or brick veneer, making it a more sustainable and environmentally friendly choice of building material."
---
---
OCTOBER 4, 2017: THE ROOF IS ON
Another significant milestone has been reached in the My Ideal House build at Crest by Mirvac: the roof is now on. Sydney architect Madeleine Blanchfield won the My Ideal House design competition with her wonderfully flexible and modular design. One of the key aspects of her design is its Colorbond roof, which affords the home a fresh, sleek and particularly Australian look.

The roof colour is Surfmist, an elegant and timeless sandy tone (the flashing, capping, gutters and downpipes will all also be in Surfmist). It's one of the lightest colours in the Colorbond range and will play an important role in keeping the home cool in summer- being so pale in tone it will radiate less heat - and warm in winter.
---
SEPTEMBER 25, 2017: COVERED IN SCAFFOLDING
My Ideal House is wearing an extra layer this week: it's cloaked in scaffolding so the next steps in the build process can be completed. This allows workers onsite at Crest by Mirvac, in Sydney's south-west, to safely access the second storey of the home and focus on installing the roof battens and roof.
---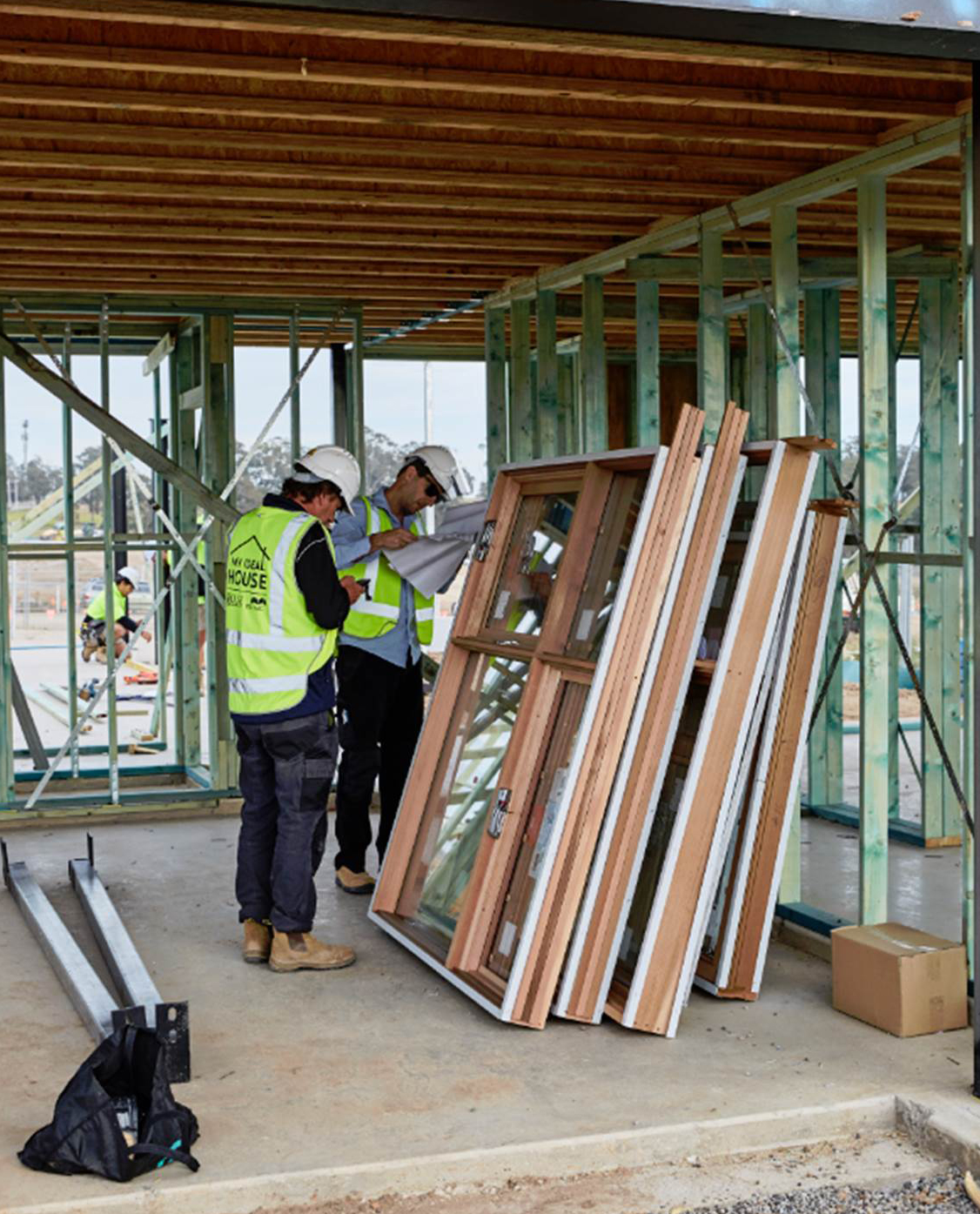 SEPTEMBER 18, 2017: WINDOWS OF OPPORTUNITY
The build team at Crest by Mirvac has begun the process of putting windows in the front section of My Ideal House. This area of the home hosts the garage, bedrooms, bathrooms and multi-purpose room. All windows are from Viridian's LightBridge double-glazed range, which means they curb the flow of heat in and out of the home and boost its energy efficiency.
Glass plays a very important role in My Ideal House: the rear of the home essentially takes the form of a glass pavilion that creates a seamless connection between the living areas and the garden.
The glass spans in the living zone will be completed soon, too, and the roof trusses and Hebel panels are among the next jobs the team will tackle.
---
AUGUST 28, 2017: INTO THE FRAME
There's movement aplenty on the My Ideal House site this week, with the home's steel and timber frame being installed. "We have a team of carpenters ready to go; it should take them four or five days to complete this step of the build process," says Roderick Petre, NSW Operations Manager for Mirvac.

"Once the frame is complete the Hebel external cladding can be put in place," says Rod. "Through September, the appearance of the home will really begin to take shape."
---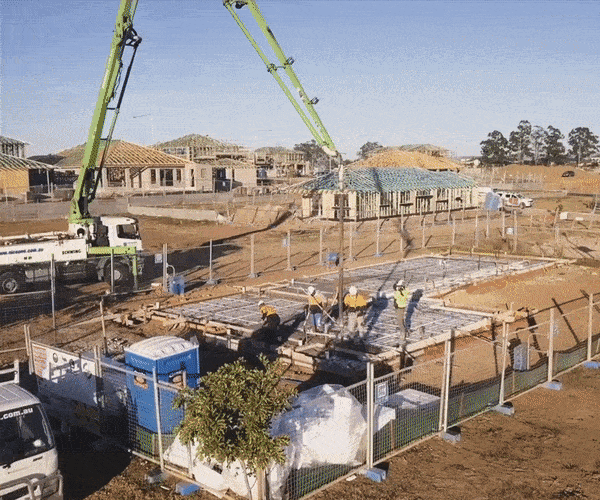 AUGUST 21, 2017: THE SLAB IS CURING
The high winds that hit Sydney last week didn't hamper the pouring of the concrete slab for My Ideal House at Crest by Mirvac. "Everything went smoothly and well," says Rod Petre, NSW Operations Manager for Mirvac. "We had everything done before the winds really picked up."
At present the concrete slab is curing nicely, so by Wednesday external drainage can be put in place. This task takes about two days to complete, says Rod, and then on Friday the electrical lead-in work will be carried out.
---
AUGUST 14, 2017: SET FOR THE SLAB
With the concrete piering complete, My Ideal House will have it slab poured this week.
"We're on track to start work on the slab this Thursday," says Roderick Petre, NSW Operations Manager for Mirvac.
Before the slab goes down on the site at Crest by Mirvac, in Sydney's Gledswood Hills, the reinforcing steel and waffle pods will be in place. "We use polystyrene waffle pods in the middle of slab, where you don't need as much strength as at key weight-bearing points," he says. "This is a standard procedure on our concrete pours."
A crew of about six concreters will work quickly to level and perfect the slab once it's poured. "After that, it'll be left to cure for three or four days," says Petre.
---
AUGUST 7, 2017: AND WE'RE BUILDING!
The bobcats are busy at House & Garden's My Ideal House site - putting the finishing touches on the earthworks at Crest by Mirvac in Sydney's Gledswood Hills so the site is perfectly level.
"We use GPS technology to ensure everything is precise," says Ricardo Awad, project coordinator of Masterplanned Communities, Construction, for Mirvac. "Once we're happy with its accuracy the concrete work will begin, probably within the next day or two."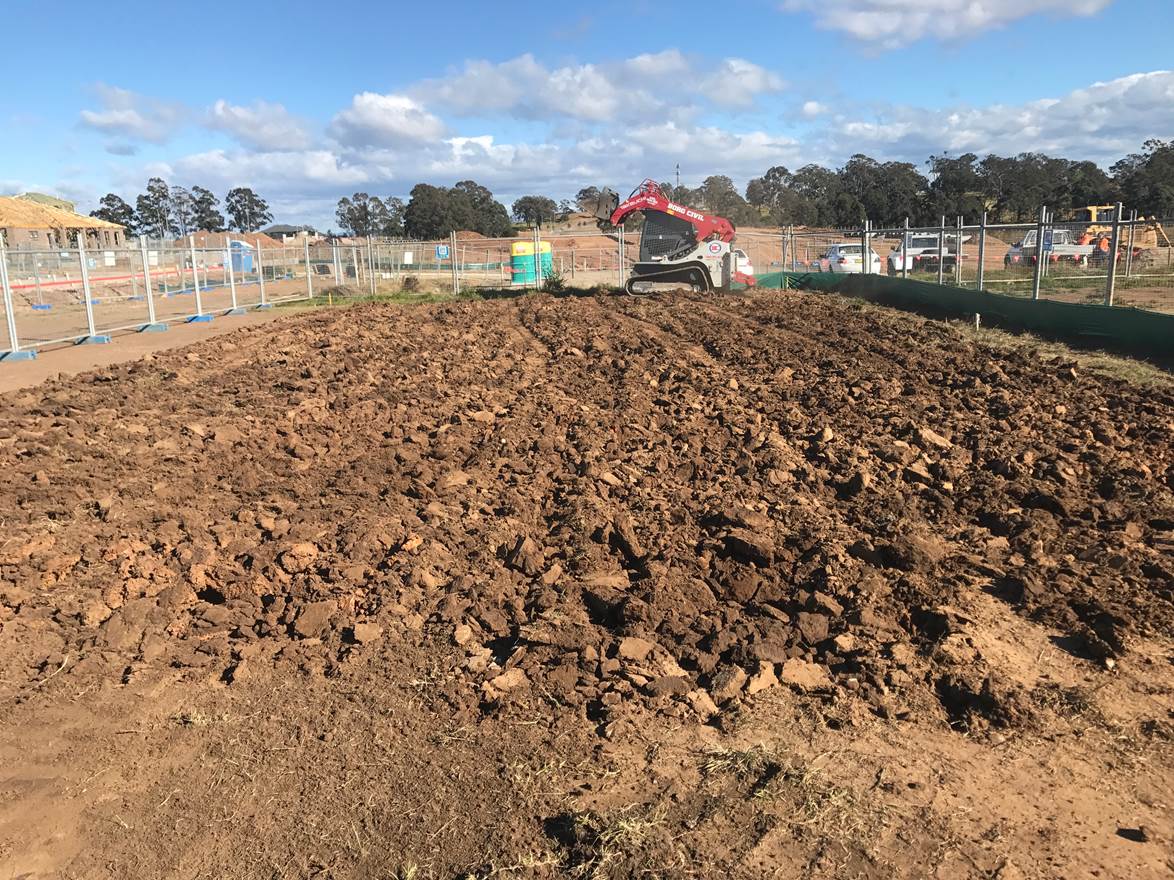 ---